I've been a CMO for a number of years (love it, can't get enough of it, want more of it) but it continues to amaze me how organizations continue to regard the CMO as someone who "just does advertising" or "picks colors" or "designs a pretty website."
Are C-levels that unenlightened?
I hope not.
But I do think that marketers tend not to do a good enough job marketing internally what they do and how important it is to their enterprise (myself included). I'm reminded of Groucho Marx' s resignation from the Friars Club:
I don't want to belong to any club that would accept me as one of its members."
Yet here I am, a member of the Don't Do a Good Enough Job Selling the Value of Marketing club.
So what's a CMO to do? I mean it's all well and good to put your head down, work hard and meet your annual performance objectives but are you really going to do great things that way?
No. You're not.
But you will do great things if you're able to turn your marketing department from a cost center to revenue generator.
How?
Why, digital transformation of course.
Many of you are probably facing some particular form of pain. Either a lack of support for your marketing initiatives or poor executive understanding of the opportunities to be gained from going to market in a predominantly digital fashion. Maybe there's a lot of corporate inertia slowing you down from doing things differently?
No matter the pain, the digital transformation highway is the path to redemption and glory. But it's not one of those roads less travelled. It's cluttered with many exits and entrances, lots of wrong turns and dead ends.
To travel this road, I have found it useful to recruit a sensei… a counselor, guide, mentor so to speak someone that can help me implement "the formula:"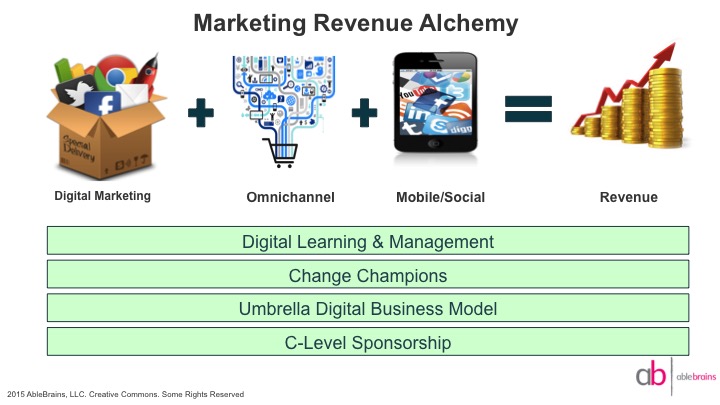 Let's take each in turn.
A Digital Marketing strategy – not only a demand or branding strategy but a methodology for developing such a strategy
Omnichannel design — we all know that we have be where our customers are, meet them on their terms, but how many of us know how to do this in an effective fashion – including both engagement and cost effectiveness
Expert Mobile/Social Engagement —  one of the lynchpins of great digital experience are obviously the mobile customer experience and the social engagement that surrounds it and the brand experience in general
Underlying this marketing revenue alchemy are four must haves:
Digital Learning and Management —  the team must be imbued with the relevant skills and competencies that make digital a reality in your organization
Change champions —  to overcome corporate inertia, CMO's need a team of change champions who will carry the digital gospel to the far corners of the enterprise.
Integration with/creation of an umbrella digital business model —  digital transformation of marketing cannot exist in a bubble – rather it needs to be integrated into an overarching digital business model for the company. If one doesn't exist, it needs to be created.
C-level sponsorship – and here is where that selling comes in. One has to ensure that the other C-levels in your organization are aligned with and supportive of your digital efforts. If not, you probably won't go anywhere.
Digital transformation, albeit a fancy word for change, must be embraced in order for marketing organizations to thrive and evolve from a cost center to revenue generator.