Last week I ran a session at Frost & Sullivan's GIL: Silicon Valley (Growth, Innovation and Leadership) conference in Santa Clara. The session ran for 75 minutes and outlined for participants methods for driving digital transformation within organizations.  Many of the participants agreed with one another that they are tired of marketing regarded by their peers,  board or other C-levels as a cost center that doesn't produce enough. The session was meant to provide guidance on how leverage digital marketing to turn the organization into a revenue center.
Marketing transformation is a change management issue. And this change management runs along 6 dimensions: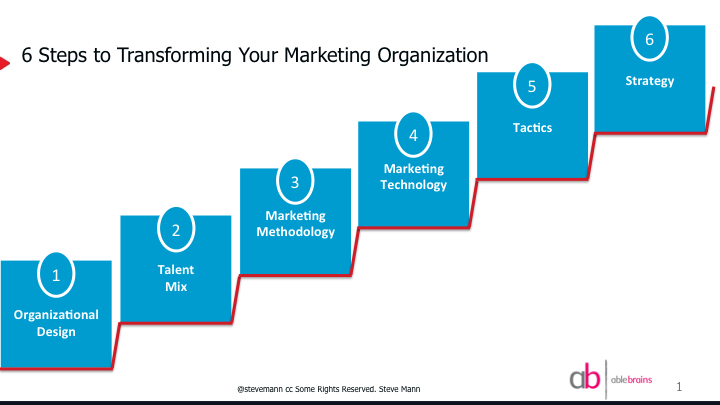 Developing a digital transformation strategy for your marketing organization requires attention to the following areas:
Organizational Design
Talent Mix
Marketing Methodology
Marketing Technology
Tactics
Strategy
Teams must develop a  framework for strategically moving marketing into high-powered revenue creation mode by addressing each of the above. One of the fundamental issues in digital marketing transformation is the need to find the "sneezers" in your marketing organization, those individuals that will infect others to your way of thinking. Why? Because mindset is the single largest obstacle to a successful transition to effective digital strategies.
Organizational Design
I like to organize my workgroups in an Agile way, creating cross-functional,  semi-autonomous teams. This organizational design is critical to moving the marketing function forward, because lack of agiliity is your enemy. If you want to prove that marketing is a revenue center, you need to produce results quickly.  In addition to org design make your department and yourself more visible by reporting on a regular basis to the CEO. One of the road blocks to digital transformation is lack of visibility.
I would also take the time to recruit folks from outside of marketing to spend some time with your teams. It could be as little as a week.  But this ensures that folks outside the department gain insight into the concerns and practices of the marketing department.  At LexisNexis, we had instituted a marketing fellowship program where individuals could spend up to six months learning and working in different areas of the organization.
Talent Mix
You will need to assess your talent and remix them in such a way as to avoid impacting your budget. The goal here is to uncover who can make the switch to digital and who can't.
Marketing Methodology
If you are using a traditional waterfall methodology, limit its use.  While certain areas of your marketing ecosystem may maintain this approach, implementing agile is critical for speed to market.
Marketing Technology
You will require a quality MarTech stack — everything from Systems of Record to Systems of Engagement  — CRM, marketing automation, personalization, social listening and engagement, analytics etc.  You can't optimize for success nor measure it without the right technology.
Tactics
What is your tactic mix? With digital, balancing Inbound tactics with Outbound is critical.  I like leveraging outbound to drive prospects to my inbound funnel.  Develop competency in a variety of areas — everything from search, to content marketing, to social media to remarketing.  
Strategy
Why save this for last?  Because it doesn't matter if you have a great GTM strategy if you don't have the foundation above.  If you're going to Build to Last (to paraphrase Jim Collins) — build those solid competencies, organize your talent in the correct way and ensure they have the right tools to get the job done.
Digital Marketing Transformation is a journey. It doesn't happen overnight. And if you need help don't be afraid to ask questions. Lots of questions.