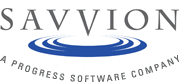 BPM acquisitions must be in the air: today, Progress Software announced that they've bought Savvion for $49M. This is hot on the heels of IBM's announcement last month that they're buying Lombardi, with one huge difference being that Progress doesn't already have a BPM product in their lineup, whereas IBM has two. Of the three mid-range BPMS-only vendors that I would most commonly name – Appian, Lombardi and Savvion – that's two out of the three announcing acquisition in less than a month. With the economy just starting to pull out of a huge pit, that's telling news: as I mentioned in my post about Lombardi, if the economic climate were different, these would be IPOs that we'd be seeing rather than acquisitions. These acquisitions by larger companies, however, changes the BPM market landscape pretty significantly, since this makes it significantly easier for Lombardi and Savvion (under the IBM and Progress banners, respectively) to get a foot in the door of larger customers who rely on their major vendors to bring them enterprise solutions, rather than considering a smaller company. One advantage that Progress/Savvion have at this point in time is that the acquisition is actually closing today (or later this week), whereas IBM/Lombardi went the pre-acquisition announcement route, and will endure several months of limbo before the deal closes.
I had an early morning call with Dr. John Bates (CTO of Progress) and Dr. Ketabchi (CEO of Savvion), but a few people obviously had earlier time slots: Neil Ward-Dutton has already posted his initial thoughts, as has Jason Stamper. I agree with Neil that this is a smart move for Progress: a good fit of products with minimal overlap, directly addressing some of the challenges that they're hearing from their customers in terms of achieving operational responsiveness. The existing suite of Progress products allows for determining what happened within an organization – a rear-view mirror approach – but not much that allows the organization to quickly change how they're doing things in order to drive efficiency or respond to changing conditions. Bringing BPM into the fold allows them to change that, primarily through tying Progress' Apama CEP with Savvion BPM, but also by leveraging the rest of the Progress SOA and ESB infrastructure, including data and application integration.
Savvion's had a couple of internal shakeups in the past two years: in early 2008, Savvion axed contractors, most of their marketing department and some salespeople, ostensibly in order to shift towards a solution focus, although at the time I said that they could be positioning themselves for acquisition. They've had a strong push on their vertical solutions since that time, wherein they develop frameworks for vertical applications, then allow partners – or even customers – to built vertical solutions on those common frameworks.
Like many BPM vendors, Savvion has often sold to the technology side of organizations but have shifted focus to the business side recently. Progress is still a very technology-focused set of tools, so it will be interesting to see how well they can bring together the different marketing messages. In my conversation with him this morning, John Bates said that they're moving towards more of a solutions-oriented approach rather than product-oriented: although this is an easier sell to the business side, it can be used to mask a number of disparate products being clumped together without much natural cohesion (cf. "IBM BPM").
There will need to be some product integration points to be able to really sell this as an integrated suite of tools rather than a "solution" patched together with professional services. First, they need to bring together a common process modeling environment. Ditto for an event/process monitoring environment. Third, they need to consider the touchpoints within application development: although data integration and application integration will be designed using the existing Progress products, these have to be seamlessly integrated into Savvion's process application development environment. There are likely also areas of integration at the engine level, too, but getting the developer and analyst-facing tools integrated first is key to acceptance, and therefore sales, of an integrated solution.
Another consideration will be a software-as-a-service offering: Savvion already has inroads in this with their BPO market, although they haven't yet announced any consumer-facing SaaS products. Bates stated that Progress considers SaaS "an important paradigm", which I would translate as "we know that we have to do it, but aren't there yet". Pushing BPM and CEP to mid-range and smaller companies is going to require a strong SaaS offering, as well as providing a platform for larger enterprises to use for piloting and testing.
Because the acquisition has already closed, or is closing within the next day or two, Progress and Savvion sales and partner channels are already being brought together; the same will happen soon for marketing teams. As always happens in this case, there will be some losses, but given the small degree of overlap in product functionality, they'll probably need most of the skills from both sides to make this work. Dr. K. has stated that he'll stay with Progress, although his role hasn't been announced.
The BPM+CEP equation is becoming increasingly important as organizations focus on operational responsiveness, and I think that it's particularly significant that Progress appointed Bates – formerly co-founder and CTO of Apama before their acquisition by Progress – to the CTO position during the time when they must have been negotiating to acquire Savvion. Clearly, Progress sees BPM+CEP as an important mix, too.
Disclosure: Savvion has been my client within the past year, for creating a webinar and internal strategy reports, although we have no active projects at this time.