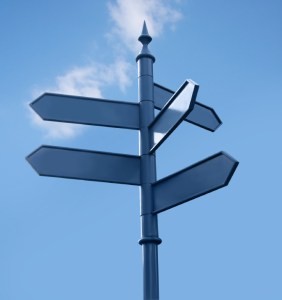 Almost ten years ago I did a slight career course change and moved from senior roles inside software companies to software market analyst. In that nearly ten years with analyst firm IDC, leading what has grown into a broad team of highly respected software market analysts, I have grown professionally and personally. For the first time in my career I found a job that managed to merge almost all of my favorite activities into a single role. It was a "thought leadership" position that encouraged me to write, speak, and think about the direction of software technologies and define an ever evolving research agenda for business software now and into the future.
Eight or so years ago I started to see a change in behavior that impacted people in all their different activities from consumer to employee and subsequently businesses. As an outgrowth of the Internet people were connecting and interacting online more and more, and in different and unique ways. This new connectivity also offered new opportunities for businesses to build new and more innovative business models around this connectivity, or more specifically this network or community effect. At the time I started research at IDC that has grown into one of the core research pillars, something we called "social business" at the time. Social approaches, processes and technologies fit at the core of the other three pillars as well, mobile, big data ' analytics and cloud. The way people connect, learn, work, interact, create content, consume content and buy stuff is changing because of these tools and concepts, in conjunction with several technologies including the 3 pillars and adding cloud platforms, Internet of Things (IoT) and several other tech trends that are just now becoming clear. One of the building blocks of all of this though, is something very simple, the online community or network. I believed that in 2008 and I my belief has not changed, except to maybe get clearer and stronger. This post from 2011 talks about it, and even though I'd say the concepts and how we understand them are clearer and somewhat different today, that post still captured the spirit of how important community is to the modern business. Alright, that's enough of this for now, my point was that I have been a loud advocate of the disruptive effect and importance of community or networks for some time.
From a career perspective working as an analysts is rewarding and was a great experience. The group I built was performing well, and the research agenda was pretty well laid out, but looking back I see that I was not feeling as challenged and happy as I had been with the situation in the past. I started to think that it was time to look at taking what I had been researching and talking about and using it, and the other skills I have developed and honed over the last 10 years in something new. I missed the energy and excitement of pushing new boundaries in the business model and business activities that I was involved in. I wanted to be involved in a business that was a part of the changes that are happening today. I'm very fortunate to have been approached last Fall by a group of individuals that were building something exciting and different that was adjacent to the software market analyst space and a part of the business software industry.
Anyway, this is a long post to say something simple, last Friday was my last day at IDC. I am starting today as the chief research officer for G2 Crowd. As many of you probably know, G2 Crowd is a startup that is about 4 years old, and provides a peer to peer community platform for the evaluation of business software. The platform, which already has over 60,000 validated business software user reviews and gets over 500,000 unique visits per month, collects information from users of business software and helps facilitate the software research and buying process by connecting people to that information. In other words the platform connects people who are researching and considering the purchase of business software to reviews and other content generated through the use of data collected from people who actually use the software directly. Okay, I realize that was a little redundant, but if you have evaluated and/or purchased business software in the past you know how valuable that kind of information would be in the process. People are searching for trust filtered and relevant information about business software, and the G2 platform can help connect them to one source of that information. There are also a lot of other uses for the data. Software companies might want to use it to better understand what their customers need and how they feel about the brand. Consultants / consulting firms, analysts / analysts firms and bloggers / authors might want to use the data to augment the information and content they already produce. That's only a few examples, I'm sure there are a bunch more use cases that I've not mentioned (or thought of); but the point is, that a trusted source of feedback and use information from business software users is extremely relevant and valuable to a number of constituents.
Before I let my enthusiasm get away from me, I think I'll end this post here. I want to say publicly how much I've enjoyed my time at IDC and will miss interacting with my group on a day to day basis. I'm also really excited to join a great group of committed people at G2 Crowd. Look for more posts shortly about what we're doing at G2 Crowd, and more posts in general as I step up blogging again.
(Cross-posted @ Michael Fauscette)