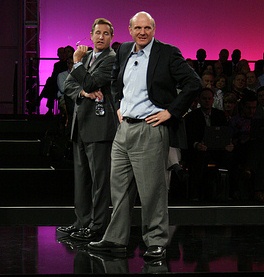 Overall, our intent is to deliver no less than a next-generation computing platform. The goal is to lead the adoption of cloud computing while helping companies realize immediate business benefits through IT. With this partnership the two companies are working toward new models for application delivery, hardware architecture and IT operations. –Brad Anderson, Microsoft
While there wasn't much meat on the bone, HP and Microsoft's partnership pushes the industry towards clearer vendor silos for next generation IT management and helps out Azure.
Partners
Microsoft and HP's much Twittered about announcement this morning was a partnership and integration announcement in the area of data center management, with a sprinkling of cloud. The partnering situation between elder companies (large, long-lived tech companies) now-a-days is disrupted with Cisco and VMWare trying to grow out of the britches they've been assigned since the last shake up, and new entrants from the cloud (Amazon, etc.), the ongoing Oracle/Sun drama, and customers being pulled every which direction by blue-skiers, your truly included.
At a time like this, you can't fault a couple of tech-giants for thinking its time to call up the press and run down to the court-house to get hitched up. The goal of the event is put pretty plainly by the press release:
This agreement represents the industry's most comprehensive technology stack integration to date — from infrastructure to application — and is intended to substantially improve the customer experience for developing, deploying and managing IT environments.
Desire Never Sleeps
As Microsoft's Brad Anderson put it, customers keep asking Microsoft for faster, better, more real-time, etc. technology. To hear Brad tell it, IT is up to their eye-balls in requests for more computational help from the business. In the past year, the budget certainly hasn't been there, but the demand for business to keep doing what it does – deliver new products and services for its own customers to buy – doesn't go away because of some bad mortgages and investing decisions made on Wall Street. We still need those damn iPhones to upload video and those grocery store loyalty cards aren't going to target coupons themselves!
In other words, companies are asking IT is the same question it always is at the beginning of a spending cycle: "what have you done for me lately?" Microsoft and HP hope that their partnership and the "stack" that results from it will help IT start to answer that question, minus all those other elder companies and doe-eyed new comers scrambling to do the same. (As a competitive comparison: any time IBM slaps the word "Smart" in front of something, you're hearing IBM's answer to that question.)
There's really two parts to the answer from announcement: technology integration and go-to-market integration. In the glass-half-full analysis, the two companies are making sure their technologies work best, most optimized on each other's platforms. There's HP systems optimizations to work with new Exchange 2010 features; pre-bundled stacks using Hyper-v virtualization to make deploying new applications easier; sales-force incentive jiggering to get the HP and Microsoft fields pointing to each other; and the same for services.
The issue, as James Governor's questioning on the analyst call this morning got to, is figuring out how this is different than existing partnerships and integrations. The feel you get is that this is, you know, really a partnership this time. A deep partnership. And there's also the optimization exchange between the two of them along with the pre-configured bundles of software. These bundles are easy to overlook, but if done right can actually be very helpful for IT…