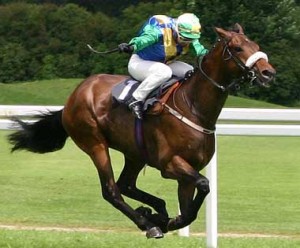 In sports, it's common to handicap competitors. This allows observers of the game — not to mention those actually participating in the festivities — to better understand how they stack up to their peers. Now, many factors can comprise a handicap. Some are purely quantitative (in golf, a handicap is calculated from your scores on given courses, each with its own set rating). Others are more qualitative, often based on a combination of expert analysis and a competitive-market pricing environment (betting at the race track, football/soccer game spreads through your friend in Vegas, etc.) Regardless of how the actual handicap or comparative benchmark is created, it's the range of factors that go into creating the score — or the specific votes in the form of educated guesses and bets — that matter most for truly understanding how a competitor stacks up
For example, It's one thing to know that Horse A faces 20-1 odds, but when handicapping the race yourself it's far more useful to know that Horse A's past performance on specific track conditions is actually stronger than the relative measure portends, and might not be factored into the current odds by other participants in the market. At this point you're probably asking yourself, "What the heck does this mean when handicapping SAP and Oracle in the procurement sector?" I'd argue that it means quite a bit, because unless you know the relative strengths of their approaches to each other, it becomes hard to see through the noise of individual announcement, product reviews, and analyst rankings.
Given this, I thought I'd take a few minutes to put digital pen to virtual paper and lay out some of the strengths I see in each provider that would factor into any type of handicap. Granted, this exercise is more theoretical than anything else because it's quite rare for SAP or Oracle to run up against each other; still, I think it's worth engaging in.
First, let's cover some common strengths, and scratch these from the individual comparative factors: