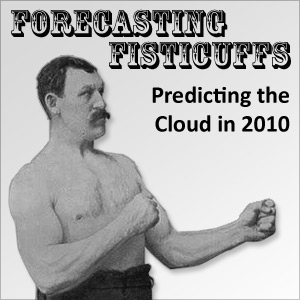 Following on from yesterday's Forecasting Fisticuffs webcast (recording here) with fellow Enterprise Irregular bloggers Vinnie Mirchandani and Dennis Howlett alongside Appirio's Narinder Singh, I tweeted a provocative prediction for 2010 that "Private clouds will be discredited by year end". There followed a flurry of counter-tweets, most notably a challenge from Cloudscaling CEO Randy Bias to put my money where my mouth is.
That required a bit more clarity about what we'd actually be betting on, and the continuing conversation quickly showed up the constraints of Twitter's 140-character limit. I resolved to dive into some of the underlying concepts in a blog post here today.
First of all, 'discredited'. As I elaborated to SearchCloudComputing's Carl Brooks, that means "No one likes using the phrase any more" — I was aiming to capture something halfway between the repulsion and embarassment people used to feel about, respectively, application service providers and intranets. People will still be using private clouds, but I believe they'll feel increasingly ashamed or nervous of admitting it in public, except to fellow-users. The rest of the world will have moved on. I'm inclined to agree with Phil Morris that my timing was probably over-ambitious. Year-end 2011 or mid-2012 would have been a lot safer but hey, I wanted to be provocative. And I truly believe sentiment will have started shifting before the year is out.
Now let's turn to 'private' and 'cloud'. My definition of private is simple: not public. Randy Bias offered a list of defining features: "unshared, single tenant, self-service compute, storage, and network infrastructure." He then went on to mention three varieties of private cloud: "virtual, external, or internal," which is when I started to realize this was a much more nuanced discussion than our tweets were going to allow. It was obvious that some of his definitions of 'private' cut across into areas that I would define as 'public'; and vice-versa.
For example, I have no objection whatsoever to virtual private cloud, so long as it's a logical slice of a public cloud infrastructure, or as I wrote last August: "computing that operates within a public cloud but which uses virtual private networking to give individual enterprises the ability to mask off a portion of the public cloud under their own delegated control and management." On the other hand, you can make your infrastructure as multi-tenant as you like, it's not cloud if it's confined within a closed, single-enterprise environment.
So when I talk about 'private cloud' as something the world will move on from, I'm not talking about cloud infrastructure that's logically partitioned to make it private. I'm talking about physically private infrastructure that's logically structured as though it were cloud…