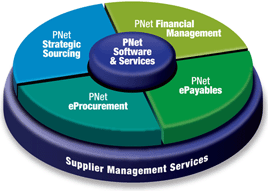 Yesterday afternoon, Versata announced it was acquiring PurchasingNet, a purchase-to-pay solutions provider that's traditionally been focused more on the middle market than large Fortune 500 customers. There's little to speak of in the press release regarding the substance of the deal. So rather than quote verbatim from it, I'll share a bit of history of both companies and then offer my own initial analysis of the deal and what it means for the Spend Management sector. To begin, I'll provide some background on the acquired party. As I see it, what's most interesting about PurchasingNet is that it's been a closely held family business for over twenty-five years.
This is a team that really can say they were some of the early architects of eProcurement. Yet they missed the large-scale commercialization boat at the time Ariba, Commerce One, Metiom and many others were taking off. While they claim over a thousand customers in their marketing, the reality is that they're a provider that only seldom makes it to the final shortlist in large sector deals (even though they have the basic capabilities to do so). Truthfully, I rarely see them competing in enterprise size accounts and when they do get a seat at the table, there's sometimes confusion about what they do. Are they a software provider? Do they train people (for a fee) on inner workings of the P2P process?
Despite some occasional confusion in larger account prospects, PurchasingNet has grown primarily through working with middle market companies. Yet their revenue, which I'm estimating is shy of $10 million (based on Hoovers data and some other sources I've spoken to), suggests they're actually a smaller organization that has in fact stagnated to some degree from a growth perspective in recent years. Still, the underlying technology asset is most certainly solid. I saw the product last year and came away slightly underwhelmed relative to the better known providers in the eProcurement and payables sector, but it did check the functional boxes on a range of areas. At the right price, I would not hesitate to consider it.
So why is Versata acquiring PurchasingNet given this context? It appears, for one, they were for sale, which most likely portends greater M&A activity in the sector. PurchasingNet's founders engaged a small but quality investment bank to sell the company. And Versata, which has done a number of deals of late, seemed a logical fit (Infor would have been another potential suitor). Versata, a former division of Trilogy, is in business to roll-up technology assets in the enterprise applications sector. Versata also knows a thing or two about the Spend Management sector, having acquired Nextance, which was originally a leading contract management vendor that ultimately ceded ground to Emptoris, Upside, Ariba and others, back in 2007 (but more on that acquisition later)…