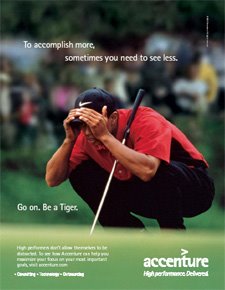 Thursday, I was going through Chicago's O'Hare airport on my way to Gate L4 when I stopped to talk to some workers removing an Accenture advertisement. This ad featured Tiger Woods.
I asked them what they were going to do with the old ad as it was approximately 5 ft. by 8 ft. in size. They had several other ads on their cart, too. All of these also appeared to be Accenture ads as well but I can't be sure.
The workers said these ads have to be destroyed. One worker then beat me to my next thought. He immediately said "Yeah, otherwise I'd be selling these on EBay".
So, I guess if you have any Tiger/Accenture co-branded items, you should hang onto them. I doubt anyone will be making any more of these items and the supply of existing ones may be declining quickly.
The teaming of Tiger and Accenture was a long-standing two-some. Erasing the connection will take some time, too.
Disclosure: I have a few shares of Accenture stock. I don't have any TW branded materials, though.
Related articles by Zemanta