In my first column on Ivalua, I provided a basic company overview and a high-level look at its various solution components; in today's post, I'll take a closer look at Ivalua and its various modules and products.
What stood out most about Ivalua when I first began pulling back the covers was that it doesn't behave like an upstart vendor. For example, despite a total 2009 revenue that was less than some of the largest suite deals in the market (involving historic Ariba, SAP, and Oracle licensing arrangements), Ivalua has struck up a range of partnerships with both SI/consultancies and supply-management content providers worthy of its largest peers. In fact, Ivalua's partnerships with Bureau Van Dijk, D&B/Altares, EcoVadis and others place it at the top of a rather elite list of spend-analysis and supply-risk management solution providers with truly global content-enrichment partnerships and capabilities, running the gamut from basic enrichment to value-added areas (e.g., sustainability).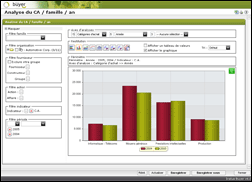 Moreover, Ivalua users are deploying its solutions globally. Anyone with the misperception that Ivalua's customers are mostly French should consider: two-thirds of Ivalua's users are outside of France, and over 50% are outside of Europe. In addition, Ivalua has architected its solutions from the ground-up to accommodate multiple languages and currencies, with an eye towards nitty-gritty localization for large multinationals. In fact, one large multinational industrial company has standardized on Ivalua for sourcing, spend, and supplier management activities, replacing eight separate sourcing tools it previously used throughout various divisions and geographies. While Ivalua's global capabilities are no doubt part of the reason for this, I was pleasantly surprised during a demonstration at how much it could orient its solutions to particular industry challenges (e.g., industrial manufacturing).
Anyone familiar with a typical SAP environment will be at home with Ivalua. While its general interface is not as slick as some other solutions on the market, it's relatively easy to use, and with just a click or two provides a fairly easy and quick way to navigate detailed fields and information. For example, from the main portal page it's very simple to navigate to — or launch — specific action plans, scorecard analyses, and related information about a particular supplier (in this regard, I find its interface easier to use than SAP's historic capabilities). During the demonstration, it also became clear that Ivalua does anything but provide a generic, indirect procurement solution: it's relatively simple, for instance, to cut to highly granular supplier development programs specific to a manufacturing environment…