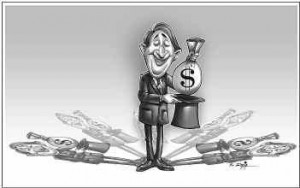 Ethical Standards or a Standard for Mankind?
Earlier this month, the Chicago Tribune wrote about the case of Thomas Flanagan, a former Deloitte vice chairman, being litigated by his old employer, Deloitte.
The case is fascinating as he is alleged to have traded in the stocks of companies that Deloitte audits but even more interesting is that Mr. Flanagan had access to inside knowledge that he used for his benefit. Deloitte is seeking restitution. A Delaware state judge ruled this month that Mr. Flanagan had concealed his trading activity from Deloitte and had violated the firm's rules for trading in client stocks.
In November 2008, The Huffington Post wrote about the original court filing. Take a moment and read this piece.
The original court filing can be found here.
When I was with Arthur Andersen/Andersen Consulting, we had considerable restrictions on what we could/could not invest in and these were tightly monitored. I checked with a colleague who has worked with two other Big 4/5/8 firms and she confirmed almost identical rules in place at these firms, too.
In essence, employees at these tax & auditing firms are not allowed to invest in the securities of attest clients. Attest clients are firms that have engaged the service firm for audit, tax or other specialty services. This prohibition applies to all attest clients no matter if the audit or tax professional is not involved in this client or works in an office that has no contact with this client. Investments in attest clients are forbidden…