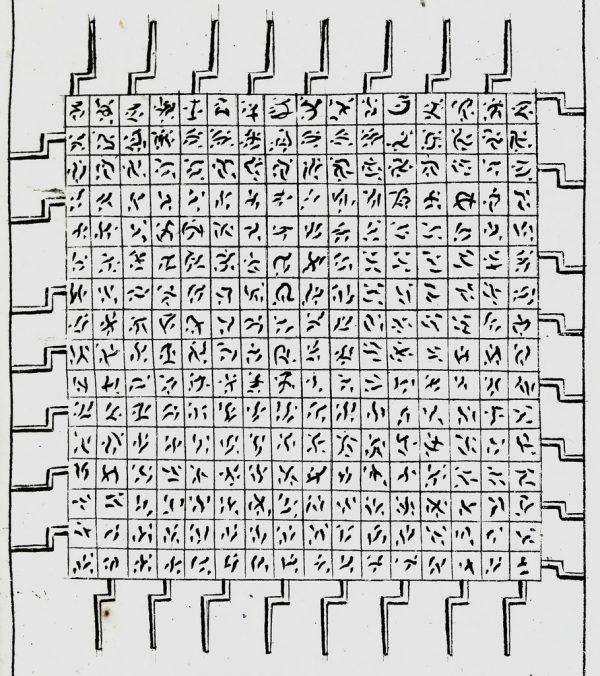 We are ready for it!
One of the first questions I have asked no one in particular is: what will change when artificial intelligence is  part of the fabric of day to day life? It sounds like a simple question, but it had a logical fallacy in that for the last 30 years, artificial intelligence (AI) projects were science experiments with high expectations and low delivery rates. The AI systems of the past were nowhere near as commonplace as the possibilities that were presented to us. We weren't even nearing the feats of  the  "The Engine," described in Jonathan Swift's Gulliver's Travels almost 300 years ago. The Engine is a contraption that arranges words (quite manually or artificially) so that any ignorant person…
 "at a reasonable charge, and with a little bodily labour, might write books in philosophy, poetry, politics, laws, mathematics, and theology, without the least assistance from genius or study." 
Although Swift may have been skewering purposeless-science, The Engine actually sounds pretty useful right now. But before we get there, we have some things to solve. First, we have to define AI. Since the modern concepts have been around for 50 years, there's a preconception that AI is just another expensive lab experiment that yields few tangible results and only to a few organizations. Second, we have to get past the idea that AI is a competitor to the human race. Lastly, we have to avoid positioning AI as the technology that will solve all the world's problems. In other words, it has to have a purpose.
What is AI? 
AI has a variety of definitions some of which have been amalgamated and associated with analytics, big data, automated decision processing/automated decision systems, decision support systems, and any other technology that possibly is a facet of AI. They are all related. However, many of the solutions of the past were focused on solving repetitive management problems, and they were dependent on how the rules were articulated into algorithms and the quality of the data analyzed. I'm pretty sure the name "big data" came from the notion that the data sets were so large that ordinary computing (and mere mortals) couldn't handle them. In other words, big data was a vendor-led discussion. But now processing power, storage, computing fabrics, multi-tenancy and cloud have solved many of these processing issues, leaving technologists to focus on things we don't already know.
Esteban Kolsky, the brilliant Argentinian technology philosopher, has this framework for the maturation of AI: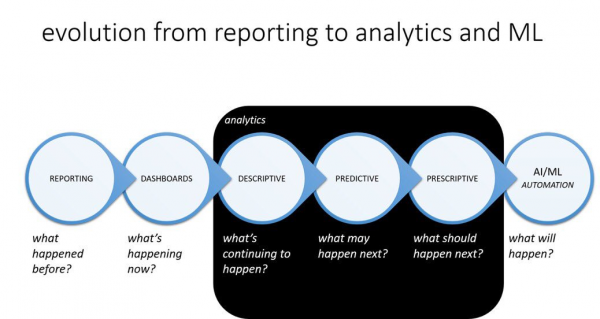 Kolsky also has another graphical representation of a maturity model for true artificial intelligence: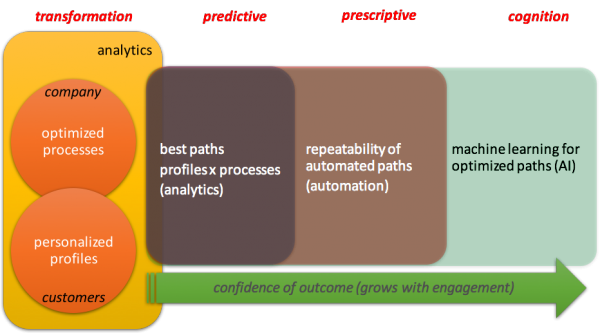 For an AI implementation to be effective, businesses will require all of these capabilities. In the past, most initiatives were focused on one or two of these descriptions coupled with some algorithmic rules engines.
Where do businesses start? 
I like to think of things very simply, abstracting all the surrounding words and images just get to a point. Irony aside, this takes me back to my early and somewhat rudimentary philosophy studies. How do we know what we know? How can we possibly ask the appropriate questions if we don't know what we don't know? And how does one solve the paradox of the skeptical? The first two questions are tenets of epistemology – the study of knowledge. The third is simply dealing with real life.
But it leads into the most practical answers. Business applications are the ideal starting point for any kind of intelligence. Companies have at least some defined processes, tangible goals, and a necessary alignment in workplace vision and execution. These are all things that computer technology can address. It's also these facets of business that are seemingly difficult for humans, which brings us to augmented humanity.
First, AI, and in particular the aspect of deep learning that is focused on discovery, can augment what people may feel but not know, such as figuring out the trends the are impacting a deal closing, customer service requests, marketing effectiveness and more. The AI can be used to help people acquire the knowledge necessary to ask human-led questions, such as "why is  customer retention impacted by partner readiness and enablement?"
There are skeptics out there, but here's the paradox of the skeptical: They don't ever want to be wrong. They question everything in order to get the right answer, but the skepticism leads to a self-unfulfilled prophesy (or perhaps retrospective ignorance) — they can't get any information because it's too hard to communicate with them, even if doing so can lead to better answers. AI can augment the skeptics, giving them tools to question everything and arm them with facts, data, and actual decision —  leading them to better answers more quickly. And AI can create the bridge of knowledge that ties the skeptical into the business processes.
AI also doesn't have any emotion. The gut feel to a machine is data, unlike the perceptions carried forth in "The Terminator":
Listen, and understand! That Terminator is out there! It can't be bargained with. It can't be reasoned with. It doesn't feel pity, or remorse, or fear. And it absolutely will not stop… ever, until you are dead!

It's a moderately negative view of the future. In real life, technologists are generally not so dystopian. Neither am I. I would change the quote to be something like:
"Listen and understand! This system is out there. You can't bargain with it. You can't sandbag it. It doesn't feel pity, or remorse, or fear. And it will absolutely help you get your job done!"
The Experts Weigh In 
Enough of my thoughts. I also wanted to understand what the true business and industry experts thought. So I asked them.
Denis Pombriant, the founder of Beagle Research Group, and a well-respected author, speaker, and thought leader says this when asked how businesses can be impacted by AI:
The benefits are manifold but the need is for simplicity. AI needs to be drop-dead easy to use if we're going to get business users involved consistently. Right now, people tell me that few business users go beyond the canned analyses that are packaged with AI tools. That's low hanging fruit to me. With AI embedded in common business practices, you take a lot—not all—of the ambiguity out of most situations. In my writing, I say that vendors and customers meet in moments of truth, but it's a rare vendor that understands what's taking place in those moments. With AI driving the situation the limited number of possible actions/offers/whatever come into focus giving everyone a better chance at success.
AI has been hyped for years. Ray Wang, principal analyst, founder, and chairman of Constellation Research explains what is different now:
Hype around AI came in the late 80's and 90's.  Many of the algorithms and statistical techniques in machine learning have their roots in the early neural nets.  However, the compute power required was prohibitive.  Today, cloud computing has given new life by enabling the seven factors that drive AI today: massive compute power, large data sets, time, awesome math talent and algorithms, rich industry expertise, natural user experiences, and self-learning recommendation engines. When you put these seven factors together, the transformations will disrupt existing business models as AI smart services embed themselves in a number of business processes.  
I also asked Wang what was so wrong with our current systems that we need AI:
The opportunities come from instrumenting the processes to see patterns.  We often take data and apply business processes to achieve information flows. By mining the information flows for patterns, we gain insights. From those insights, we take action. This data to decisions flow takes a long time for success, often is fraught with human errors, and remains isolated from the overall organization. By applying AI, we can augment humanity though seven levels of AI maturity including:
Awareness, 
Notification, 
Recommendation, 
Automation, 
Prediction, 
Prevention, 
Situational Awareness
Vinnie Mirchandani, well-known author and influencer, and creator of the Deal Architect, had this to say when asked if AI was going to be transformative:
Today's AI will be transformative because it is opening our eyes to all kinds of white-collar automation possibilities with massive compute power being able to crunch massive data sets and help on cognitive tasks. Previous generations of automation like robots and drones primarily made agricultural and industrial tasks more productive. Now we can bring the same to cognitive work.
Paul Greenberg, author, speaker, guide, and mentor, said this when asked whether the impetus for AI implementations is broken business processes:
I wouldn't really put it that AI is a result of broken business processes. Business processes have value still and the systems out there that automate them are not bad at all. According to many studies out there between 90%-98% of the service interactions that customers initiate are queries – and they come via many and multiple channels and on many and multiple devices. Most of them are automatable and don't need anything like AI to be right. AI certainly can improve the delivery of the responses to the queries by effectively learning the habits of the customer over time to improve the quality of the response but it isn't totally necessary in that case. Where AI's value comes in is as a result of a much deeper need and demand by customers for personalized responses to their queries and their demands to have results that are immediately meaningful. That's the true value of AI.
Conclusion
There is a huge need for augmented or artificial intelligence in business, particularly in the front-office. Technology is moving too fast. The rates of innovation far outpace even the most sophisticated business rules that were created five years before. This creates stresses on everything from business financials to the workplace. It's not going to be a panacea. You can't just go to Radio Shack and get the Decision Maker and solve a customer experience issue.
But once AI and data science are applied to every facet of a business there should be substantial productivity gains followed by faster and better human decision making.
---
The full interviews are here:
Michael Krigsman, founder of CXOTalk, and Dr. David Bray, Harvard Executive-in-Residence and Eisenhower Fellow, were also tremendously helpful, enough so that there will be a follow-up post on AI ethics. An interview with these esteemed leaders is here.