The vast majority of top executives in the world's leading organizations now believe that achieving digital transformation has become critical to their organizations for growth, sustainability, and even survivability according to an authoritative and widely respected survey by the MIT Sloan School of Management. The reasons for this are clear, as similar studies have shown that making the shift to digital business is strongly correlated to higher revenues, profitability, and market capitalization.
However, even though 78% of executives agree, nearly two-thirds of them also say the pace of technology change in their organization is simply too slow. Given this it's not surprising that only 38% of CEOs have adapting to digital on their top roster of actual corporate priorities, according to the same data.
This then is exactly the sort of existential challenge in an organization's trajectory that boards of directors are supposed to help companies navigate via their role in maintaining oversight of the chief executive. But the insular nature of digital business, especially its specialized domains of technical knowledge and unique fast-emerging new operating models, has put up a difficult barrier in front of most boards to foster the requisite proverbial 'digital DNA.'
Most Boards Still Not Ready for Digital
The current data on boards and digital is fairly grim, with the most authoritative data available (McKinsey & Company)showing clearly that boards significantly lag every other C-suite role in prioritizing what is likely their single largest opportunity to seize opportunity and thrive in today's global marketplace.
Most worrisome is that it's likely not that board members believe there is no future in digital for the organizations they govern, it's that they typically have little experience with it. A detailed analysis last year by Russell Reynolds Associates of the background of the boards of directors for the Fortune 100, as well as equivalents in Europe, totaling 300 leading organizations, found that fully 80% of board members did not have the necessary experience to guide their organizations into the digital era. They also examined the financial performance of those organizations, and the ones with well-resourced digital initiatives and leadership with digital backgrounds both turned in impressive performance numbers compared with ones led by boards with little digital savvy, with 9% higher revenue on average, 26% more profitability, and 12% higher market valuation.
This data is unambiguous enough that most companies today can say with confidence that they have a skill and experience gap on their board of directors that must be addressed. But how can this gap be closed in time? Part of the issue is one of apparent gains/misses: Unrealized business opportunities are not nearly as visible to shareholders as poor performance in existing lines of business. And the opportunities typically look very foreign in the digital world, and are difficult to quantify, as the digital re-imagining of a traditional business often results in models that look almost nothing like the original way of operating.
As a well-known example of the challenges boards face, and they face many challenges according to Dominic Barton, is by comparing that poster child of modern digital business, Airbnb, with the Hilton Hotel chain, formerly the largest hospitality company in the world. Hilton is now easily eclipsed in total rooms available by the new digital gazelle in just a handful years. One could now argue that Hilton's board should have been aware — and had a primarily responsibility in understanding — that this was coming and better positioned the organization. There are now a long list of examples of major corporate misses in digital transformation that have circulated for years and the evidence shows many more will join the list. But digital growth is inherently so rapid given the underlying operating environment, that it can overtake existing systems of governance and oversight such as traditional boards.
The Top Obstacles to Digital Transition
To answer what must be done, let's look at the primary reasons that organization's miss on digital opportunity, beyond just lower visibility of lack of performance against the unknown. Forrester's Martin Gill sums it up as three top issues, and in our experience we would very much agree: a) Thinking digital is primarily a technology problem; b) Lack of ability to make large scale changes successfully, and; c) Believing they have command of the issues on digital internally. In contrast to most organizations today, digital-ready boards tend to have the experience and background to navigate their organizations past all three leading challenges to digital transformation.
To understand how boards of directors can close the gap and become more digital-ready, it's worth looking at the existing responsibilities and objectives of the board, which can be seen in the figure below: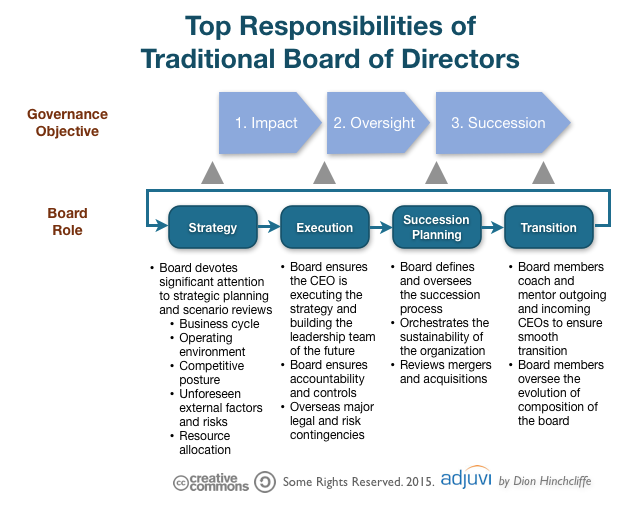 It's clear from this that many of the responsibilities include understanding how to deal with execution of the business, fending off competitors and other unforeseen external risks, building the right leadership team, and guiding the organizations through changes of all kinds, from leadership to mergers and acquisitions. How then does this help the organization deal with the top three issues holding back effective digital transformation, as mentioned above? The answer, based on our analysis of available data and relationships with top executives and board members in global organizations, is that the first issue, an understanding of how digital technologies can alter your business is well known, it just must be prioritized and studied. So too is the third problem: Not-invented here, or thinking you understand the issues of digital change well enough. That can be resolve by understanding how the board must look outside for competence and experience for help and perspective.
Rather, it's the second problem that's the sticking point for most boards: Confidence in — and the actual possession of — organizational capability to make bold and sufficient changes for digital, while heading off the well-known risks and challenges with large scale transformation to the business.
With CIOs and Chief Digital Officers both in the position of direct responsibility for digital, boards may feel they have vast and well-funded resources for digital, but as we've observed in recent analysis, lack of funding and prioritization is actually starving the IT departments and digital lines of business from seizing the large opportunities that still lie in front of most organizations' today. At this point, few informed observers believe that the CIO, CMO, or CDO will succeed in leading the organization in digital transformation, which Altimeter characterized last year as a "marathon", not a sprint, and requires the sustained resources and top leadership of the organization to achieve.
Preparing for the Digital Marathon
To run that marathon while addressing the top three issues impeding successful realization of digital transition will end up requiring the board. No single C-level role in the organization has the purview or the ability to mandate the changes and marshal the resources sufficient to the challenge, except perhaps the chief executive. But we would argue that the complexity and magnitude of the required changes for digital are bigger than any one person, and requires a deep bench of experience and capability. The board can be the backstop in terms of responsibility, it can build and lean on the right experience, but it's the possession of effective operational capability to seize digital opportunity that most organizations lack.
It's here, in the structure of the responsibilities and objectives of the board, that there is a major opportunity in most organization. By recasting the traditional role of succession planning and positioning it for what it needs to be today, transformation, the board can sponsor the requisite resourcing, skills, and operational change model.
This should lead boards to the key question to address the hardest of the three challenges: What will the operational change model be for digital in most organizations? For many digital initiatives, it's been theCenter of Excellence model or the strategic initiative. But our combined research and work in top organizations has shown that we're moving beyond most of these to a new model that is much more enabling, decentralized, and effective. In fact, we've noted that in 2015, acquiring such a capability should be a top priority of the C-Suite overall.
We'll explore in detail the digital-ready board of directors in an upcoming research post, but one can get a sense of what it looks like in the visual below.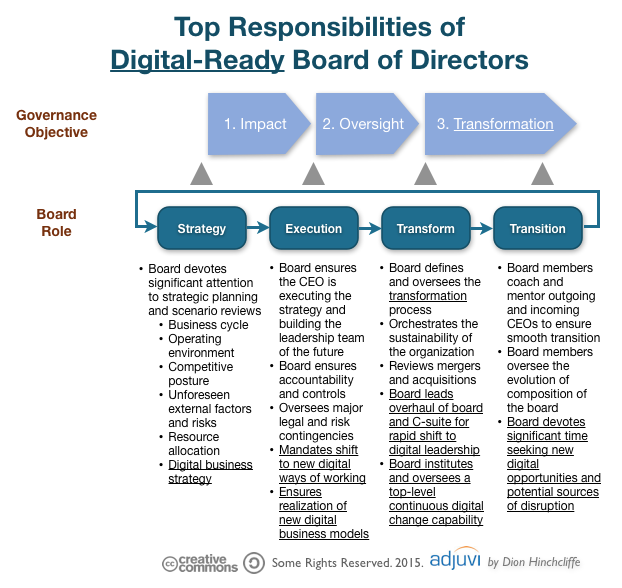 The underlined areas above show where the board of directors must add a vital new responsibility for digital. Digital transformation will effect nearly every board role in some way, but succession more than all, which becomes transformation, and is where the continuous change capability, matched to the rapid speed of digital change, is sponsored and overseen.
What remains to be seen is what actions and remediation that boards of directors will carry out, as it's not entirely clear if urgency will be found in time. But of time, there is a bit remaining, and proactive organizations have a significant remaining opportunity to seize the digital high ground if they are willing to create the necessary capabilities, backed by board-level mandate.