Every now and then I start thinking about things that may not fall within the formal purview of Social CRM or enterprise software. But what makes Social CRM such an interesting field is the width and breadth of scope that those of us involved in it get to exercise. Because there is so much social psychology and cultural attributes that need to be considered when it comes to crafting customer engagement strategies, it actually can pay to muse about culture and life – one well spent or not – and still be able to justify the thinking within the field.
What in god's name am I talking about? Are these the musings of a madman or someone who doesn't know how to focus or poseur pretending to be erudite.
If I were judging me, I'd say say yes to all but the madman – though you probably could make a case for that too.
What triggered this oddly named post was the two days of consulting I just completed at Jive – one of the leading social business software purveyors for the enterprise. It was intense, fun, busy from dawn to night and hopefully valuable to them. I know it was valuable to me. But what I found at Jive is not for this (or any) discussion but the one between me and them.
However, that caveat aside, there is something to discuss about how company culture impacts the decision making and direction of a company and how it is shaped and shapes the area that the company resides it – or at least that's the case here.
Jive is in Portland Oregon, a city that I had heard terrific things about but had never been before. Someone I spoke to said the city vibe was "retro-chic" and that describes it perfectly.
If you hang out in downtown Portland you see something very much akin to a U.S. version of Amsterdam. There are tree lined boulevards, coffee houses everywhere – sometimes two three to a block. In fact there are so many coffee shops that Starbucks doesn't seem to have nearly the deep footprint it has in most of the cities it is present.
While I was there I stayed at "The Nines" hotel – one who's name I presume came from the expression "dressed to the nines." Meaning really maxed out at doing something. In this case the name was justified. The room fit the retro-chic image of the city with a sort of modern but not "W" hotel-like, decor, and furniture selection in the rooms. The way I felt being in the room was that it was "really cool." And comfortable.
Portland is also a foodies paradise – a place for those who are into it, to find fair trade certified, organic versions of pretty much any cuisine imaginable and, in fact, multiple fusion cuisines – both in food and drink. (check out this Imbibe Magazine article on the Portland food and drink scene). For example, The Nines restaurant, Departures, had about 15 choices of saki and something called a Yuzu martini which I had and "yum" is all I can say. They had a totally eclectic version of a Japanese menu with an emphasis on organic quality with Steelhead trout and Kobe beef as part of their "offering."
The buildings in Portland are not contemporary – though there is some of that glass look sprinkled here and there on its streets. They have instead that charming old style brewhouse look with contemporary takes on 19th and early 20th fonts and architecture. Interwoven with these very comfortably interesting buildings is a very cool looking, highly effective public transportation system with above ground subway cars that look like they belong in the late 21st century – or Tokyo – that go whizzing around the tracks that are set in a spiderweb throughout downtown Portland. If you can span widely enough to take it all in, you feel that you've just become embedded in something really….interesting.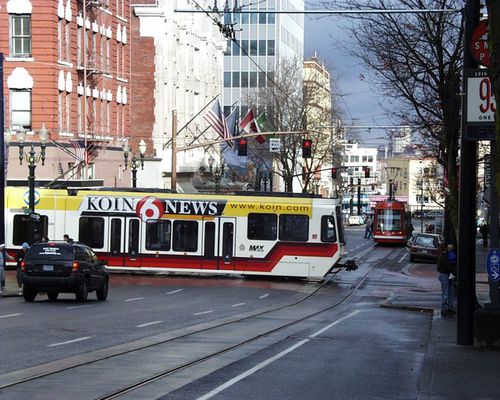 Jive is one of the few software companies that has its headquarters in Portland and that's a pity. Software companies, which tend to be comprised of Gen X and Y aged employees, have available to them in this city, an almost perfect "scene" for the kinds of cool, laid back discourse that they love as part of the life that they lead. In this city, geekdom and also philosophical discourse lives in the discussion at multiple coffee shops and restaurants that serve non-toney versions of California eclectic cuisines.
Which brings me to Jive and its culture…