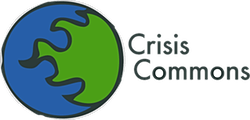 A bit off topic for my usual blogging here, but I spent this afternoon at the initial planning meeting of CrisisCampTO, the Toronto manifestation of Crisis Commons. Although this is happening here and now in response to the earthquake disaster in Haiti 12 days ago, Crisis Commons has a broader mandate:
We are an international volunteer network of professionals drawn together by a call to service. We create technological tools and resources for responders to use in mitigating disasters and crises around the world
We're here today to work on anything that can be done to help, in collaboration with other Crisis Commons teams all over the world, on the various projects that have been defined by Crisis Commons based on requests from NGOs to fill a need that they have. The bulk of the projects fall under the category of software development, but there are also teams for social media, logistics and more general duties.
Our first goal today is to find a development project for the bulk of the Toronto team to get involved with, and learn how to plug into other Crisis Commons groups around the world. There is quite a bit of infrastructure already in place to connect up, including IRC channels (retro, I will definitely need a refresher course) and voice conference lines, plus a rapidly growing wiki.
I have a pretty broad range of skills to apply here: although I don't really write code any more – unless I'm really inspired – I can do all the other stuff around development (requirements, testing, documentation). I also do a lot of social media stuff, and have attended more unconferences than you can shake a stick at, so can help with the local social media efforts such as wiki gardening, Facebook and Twitter updates, and more.
The main goal of today is to get ready for next Saturday's CrisisCampTO (time and venue to be announced shortly), by getting some basic team structure in place and selecting one or more projects to which we will be contributing. That way, when newbies show up next week, they can start contributing immediately.
One of the things that we learned about today is Sahana, an open source disaster management system that was created in response to the Sri Lanka tsunami in 2004. There's a Sahana instance set up just for Haiti, although it still needs a lot of content added, and possibly some development to add specific requested functionality. We also saw OpenMRS, an open source medical records system, and Ushahidi, an SMS-to-web service that accepts requests for assistance sent by text message to a specific shortcode, and makes them available to aid agencies. If you check the feed from Haiti, you can see requests for food, water and medical assistance that have been received, translated if required, and logged for followup. In summary, there are a ton of free, open source projects that can be applied to the Haiti disaster; some of them as is, others requiring some customization. This is were we all come in.