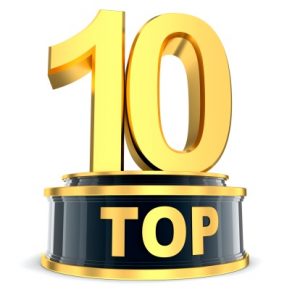 CRM Buyer has published their list of the Top 10 CRM blogs of 2016, and we're proud to find that 4 out of ten are authored by fellow Enterprise Irregulars.  Congratulations to Denis Pombriant, Paul Greenberg, Esteban Kolsky and Michael Fauscette!
Excerpts from CRM Buyer's countdown:
10. Michael Fauscette
After moving from IDC to G2 Crowd, Michael Fauscette continued to write in-depth articles that are of great use to people looking to invest in CRM and marketing automation, as well as to vendors looking for the best ways to set themselves up as choices for those buyers.
Recommended Post: "Data-Driven Software Buying Decisions"
4. ThinkJar! The Blog
Last year was a year of re-invention for Esteban Kolsky, and his ThinkJar! The Blog reflects that. The pace slowed a little, and the topics moved farther away from core CRM ideas and more toward experience and customer service.
Whether he's waxing eloquent about a technology whose time has come or unleashing venom from his poison pen about an overhyped or overstretched idea, Esteban is always provocative while remaining very informative.
Recommended Post: "Three Questions to Ponder on Salesforce and LinkedIn"
2. Social CRM: the Conversation
The so-called "Godfather of CRM," Paul Greenberg's Social CRM: the Conversation slides out of the top spot for the first time in years into a strong second place.
When he Paul sinks his teeth into a good topic and gets wound up, the results are unparalleled: long posts filled with personal asides, anecdotes that support his ideas, and data that drives the point home.
Recommended Post: When Customers are Fans: What Sports Teams Can Teach Us About Engagement"
1. Beagle Research
From trade shows to the presidential election, from artificial intelligence to acquisitions, Denis Pombriant's Beagle Research blog free-associates across the entire spectrum of customer relationships, customer experiences, and their impact on the business world and beyond.
His style is intellectual and at times a bit detached, but Denis always knows how to deliver the insight – his year-long riff on customer loyalty is well worth reading, and his posts about individual vendors and their various acquisitions, products and partnerships are almost always the best analyses out there.
Recommended Post: "Can You Accelerate a Sale?"