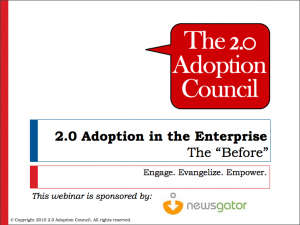 Enterprise 2.0 is maturing, but most practitioners (even veteran players whom we could classify as "innovators") agree that the opportunity for Enterprise 2.0 is still in its infancy.  I saw affirmation of that today on member Laurie Buscek's post this morning, "Enterprise 2.0 Candy Store."
The good news is there are many, many more Enterprises moving forward with pilots, plans, strategic planning than ever before.  The Council is up to 148  members with a couple dozen more in the queue for on-ramping.  All members in the Council are in some stage of planning and/or roll out.   Because this group represents some of the most progressive early adopters on the planet, I am spending a lot of time this year exposing lessons learned from this collective intelligence.  In this way, everyone– customers, vendors, industry watchers and partners can benefit from the insights of these early pioneers.
In that spirit, we are launching our first public webinar series this week.  Sponsored by industry leader Newsgator, eight of our members will be presenting their particular experiences with 2.0 adoption strategy and deployment for their company.   These presentations are meant to inform and, in some ways, inspire others who are struggling with the difficulties of bringing such radical concepts and practices to traditional organizations.
We left a lot of time on the agenda for Q&A, so please attend the webinars and get your questions answered first hand from these expert practitioners.  Signup information for the webinar is here.  We already have over 300 signed up for our kickoff this Thursday, but I wanted to make sure the e20 community is aware of the webinar series, as well.
After each webinar concludes, we will post the deck on slideshare, as well as a recording of the webinar for the benefit of the community.  I hope to see you all online Thursday.
The 2.0 Adoption Council – Social Computing Webinar Series

Dates – January 28th, February 4th, February 11th, February 18th at 12:00 p.m. ET

January 28th: Webinar #1: Social Computing Adoption in the Enterprise "the Before" – learn how to best develop the business case, gain buy-in, select technology and establish the team
February 4th: Webinar #2: Social Computing Adoption in the Enterprise "the After" –gather best practices on implementation, policy formation, training, and community management
February 11th: Webinar #3: EMC Enterprise 2.0 Case Study
February 18th: Webinar #4: Raytheon Enterprise 2.0 Case Study