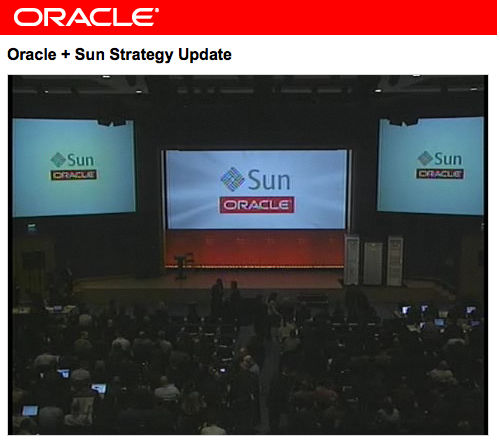 Oracle had it's big, 5 hour event today explaining what they'll be doing with Sun and the new strategies and company that will result. As immense as the topic is, below is an equally sprawling selection of my commentary. While folks like myself relish this kind of thing, I expect most others will have what they call a "meh" reaction, not too sure about what's new and different. Well, Oracle trying to be your single source for all enterprise IT is the main thing, Oracle trying to take over IBM's market-spot as a second. More details below, starting with a re-counting of my tongue-in-cheek summaries from Twitter.
Summary a la Twitter
Summary: Portfolio Rollerball
The future of Oracle and Sun are fully integrated stacks, from metal-to-glass. While many were expecting – or even gunning for – a portfolio blood-bath, Oracle seems to be keeping most everything, with only parts of Sun's identity management suite falling under the "we'll be integrating that technology" block. Other portfolio "losers" simply got demoted to niche status, like NetBeans and Glassfish whose status will pale in comparison to the "enterprise" ribbon given to JDeveloper and WebLogic.
Tech-industry folks like other vendors and partners have the most to be concerned with in the here and now – figuring out how they're going to be with 'em or agin' 'em. IT buyers and others have to ask themselves if they want the single-stack, "one throat to choke" model of if they'd prefer hedging with heterogeneity.
The Single Stack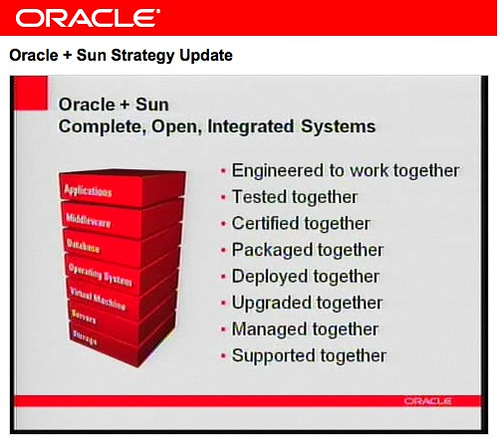 "Our vision for the year of 2010 is the same as IBM's for 1960… That strategy, by the way, made IBM the most important [technology?] company in the history of the earth." –Larry Ellison
As most people presumed, the Oracle + Sun strategy is to offer the best durn'ed stack from server to OS to middleware to applications and even to end-user device. There's the Sun server, storage, and networking gear starting from the metal; Solaris and Linux, all virtualized of course; databases with Oracle DB, MySQL, and more; Java middleware; identity and systems management; enterprise applications; and even SunRays to get all the way to the end-user's eyeballs and finger-tips.
"Vertical integration," as Larry Ellison put it. To be clear, in the wrap up Ellison said they'd still be happy to sell components, Oracle DB running on HP, he said. It's the vision of 1960's IBM with one stack, but the sales approach of 2000's IBM: use whatever technology you like, so long as you buy it from us.
Why Oracle thinks it'll work this time
At Sun events we'd have AC/DC cover bands. At Oracle events they get AC/DC. –Craig "@ThinGuy" Bender
If this was to be the strategy, the biggest question for me was how Oracle would succeed with the "we do it all" strategy where Sun failed. Sun's dream was largely along these lines – most recently manifested in what I called "The Pink Dot Theory" for the world map full of pink dots denoting Sun IP that Sun CEO Jonathan Schwartz would often show. The answer is a combination of spending more money and optimizing, including changing from a build-to-stock to a build-to-order scheme for their high-end hardware.
A major part of that is being more high-touch, as Ellison put it:
We just have to do a better job [than Sun did] taking this [excellent Sun engineering] and delivering it to customers directly.
As such, much of the talk in the 5 hour event touched on services, supply-chain fixes, focusing on high-end vs. commodity offerings, and in general working more directly with customers.
The single-sourced stack
This is the grand old question of tech companies. Technology companies love to claim that customers want "one throat to choke," one vendor to help them simplify all the complexity, and so on. To vendors, it means all parts of the stack to get paid for.
The good side, as highlighted by customers on the stage time and time again was a reduction in complexity: having to worry about integrating less things, having to manage less things, etc. It's kind of the same appeal of the cloud: less stuff.
The bad side of having one throat are the risks: IT buyers are afraid of single stacks because it locks them into price-hikes, risks of technology slow-downs, and otherwise presents the risk of harming them in the long-term. Open source was used as a response to these risks when manifested in the past 20 years.
It's interesting to think of other parts of the tech world where "single stacks" are sold: networking, performance enhancement pizza boxes, mobile devices, and so on. Most any category – which is most of them – that aren't "open" have single stack approaches: servers and enterprise software are one of the few places that can be – and are – decomposed into parts from various vendors.
The Cloud
There wasn't much mention of "cloud computing," with words like "clusters" and "grids" being used as synonyms. Larry Elision reserved most of the cloud zingers for himself, and they amounted to one of his kinder statements "everything's called cloud now, there's nothing but cloud computing." Which is another way of saying, if everything is a cloud, "cloud" is meaningless.
And, of course, they took what I call the LL Cool J stance on cloud computing: don't call it an innovation, we been doin' it for years! With virtualization and cloud computing, this is what every elder company has said, so it's expected.
Ellison said Solaris would be the best at running clusters, "or I guess the [popular] word is 'cloud,'" he tacked on. So, there you go: cloud for Oracle is about all that existing cluster and grid stuff we've had for year. Presumably, with new innovation laced on-top. And really, with "cloud computing" potentially having the same specter as "open source" (cheap), who can blame that attitude?
The more interesting question for Oracle is answering the call of SaaS, where "SaaS" means "paying less and having an easier time managing the applications because I don't actually manage them." I'm not sure there's a clear answer from Oracle on that one at the moment except, "you probably don't want that."
Misc…
What it means for competitors & co…
What it means for IT & co…
More…