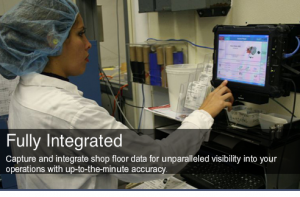 Listen to my conversation with Mark Symonds, CEO of Plex Systems, which delivers ERP software-as-a-service to mid-market manufacturing companies.
In this podcast, learn why middle America's manufacturing companies are turning to SaaS to operate their business systems, and find out what sort of business is most likely to adopt a SaaS solution as the logical delivery mechanism for ERP.
Listen to or download the 7:36 minute podcast below:
—Transcript—
PW: Mark, people say that ERP is the last application that people will ever move to the cloud. And yet you started selling Plex Online to the manufacturing industry back in 2002. So what on earth convinced you back then that there actually was going to be a market for a SaaS offering in your field?
MS: That's a great question. I joined the company in 2001, and I was a bit skeptical at the time, because the Internet and cloud computing has come a long way since 2001. But as I began to interact with manufacturing CEOs, and VPs of quality and of operations, and CFOs, it was evident that they had been through the nightmares of on-premise solutions and welcomed the approach of SaaS computing for ERP.
So what is it about the online ERP option that appeals to them?
Well, as a manufacturer, especially in the small and mid-size space, it's difficult to attract and retain IT talent and also to have those folks continually trained on new technology and to keep the infrastructure up-to-date. And a lot of manufacturers just don't know how to manage IT people, it's not a core competence for them. So the idea of — they've all had horror stories of a server crashing and not having a good backup; having a key programmer leave and then nobody knows how to run or operate the system; having a failed backup and losing data.
There's just so many issues that they've seen that the idea of outsourcing it to people who live it and breathe it every day has been real popular. Now, it's also important to note that people don't seek us out necessarily because we're on-demand, but rather because we have the best feature set for their business, and that's an important distinction.
Right. Yes, to some extent I guess that the on-demand conversation, if it comes up, is later on when they've said, 'Okay, we want this solution,' and then suddenly it's, 'Oh, but hey, the data's actually going to be somewhere else.' Now Mark, do you have a multi-tenant architecture? Is it all on a shared infrastructure?
It is. We strongly believe in multi-tenancy as the only way to get the true value from software-as-a-service. Otherwise, you're just adding cost and complexity to the relationship between the customer and the software vendor…