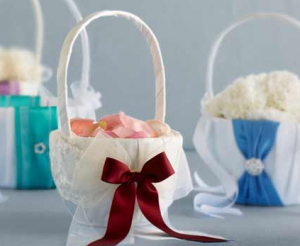 Me: Every now and then, there is a story that's worth telling about business or, more accurately, the people who compose a business.  What makes the story I'm about to have you listen to even more interesting is that this company, David's Bridal, a client of mine for 8 years, has what we are going to hear about what is called "random acts of kindness" built into the strategy.  But that strategic initiative doesn't diminish the truly genuine goodness of this story.
To tell you the story, I'm going to introduce you to someone I've known the entire time I've been a consultant with David's Bridal, Scott Rogers. Scott is a Director at DB and is one of the most savvy people I've ever run across when it comes to thinking about Social CRM both strategically and in how to execute. He is the man responsible for this random act of kindness.  So listen to it in his words. Oh, BTW, there was no PR involvement in this effort.
Simple Acts
Let me preface by saying that I'm a sucker for Hallmark moments, and working for a retailer in the bridal industry can sometimes help fuel this (previously secret) passion.
Fact: the number one reason a bride shops at any particular bridal shop is word of mouth.  I discovered this truism through the research I did more than a decade ago when I first joined the company (and the bridal industry), and it still true today.  What the growth of social networking and media has done to this industry has been to astronomically increase the reach and influence of word of mouth.  For this reason, I have been monitoring the internet buzz (using third-party vendors) for over two years now.
Now that I've given you a little background, I would like to share this Hallmark moment story.
Late last year, I read a blog post by a woman who told the story of a friend of hers – of her life, her (seriously) poor health, her recent engagement to the widower of her best friend (and the first marriage for this older woman), and then the story of her shopping trip to a bridal shop for her wedding gown – one of our bridal shops.  Suffice it to say, the story would make a fabulous Hallmark movie.
I immediately emailed a copy of the blog post, along with an effusive "thank you for the wonderful customer service experience provided to this customer" to the shop she visited, then forwarded the email to the members of our "social networking committee", suggesting that we should consider doing something for this customer.  (The committee had already approved, several months earlier, setting aside a small budget for random acts of kindness).
After receiving agreement from the members, we discussed how best to make the initial contact.  For a number of reasons, we decided to keep this as private as possible, and so I reached out to the blog poster through Facebook (text below).
I was truly touched by your post about (bride's name). I work at _________ and we would like to do something nice for (bride's name) and her wedding. No publicity, no PR, nothing public! (Bride's name) story is truly inspirational and I would like to make some gesture of thanks for letting us have taken some small part in her journey.  Please contact me at _________________.
Before I even heard a response from the reach out on Facebook, I discovered that the copy of the blog post that I sent to the shop she visited…