Ray Wang began an excellent discussion last month that highlighted the major shifts and disruptive forces that the modern CIO faces today. It's a given with most executives these days that the business landscape is quite a different one than it was just two short years ago. As part of this, many long-held assumptions and perceptions about the enterprise have begun to fall by the wayside. Chief among these has been a sense of the growing loss of top-down control amid rapidly changing performance and accountability expectations.
Make no mistake, the business side of the IT/business equation has their hands on the wheel more than ever. Primary operational focus has moved sharply towards promoting short-term revenue stability, transitioning to new market conditions with minimum disruption, and attaining medium-term sustainability. Along the way, the customer has become a vocal back-seat driver and has started to demand a larger share of influence while wielding more real, de facto power than just about any time in business history.
Powerful New Constituents Requires Potent New Means
All of this is only making the top IT job all that much harder: A CIO today must now walk a tightrope between at least five major constituencies: The board, the shareholders, the lines of business, trading partners, and customers. The latter two have been able to drive surprisingly little actual accountability for many CIOs until recently. The big question is now about the ways that CIOs might actually find opportunity amidst these major changes.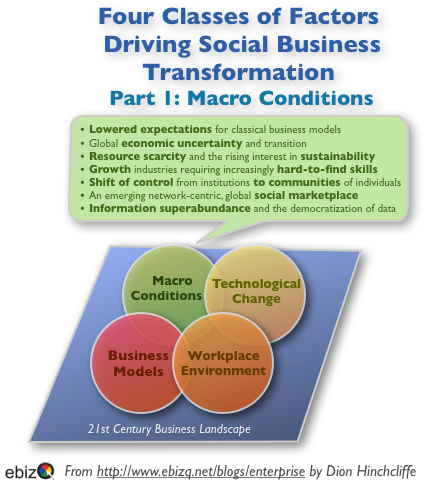 Thus there's a new agenda afoot today at the enterprise level with the CIOs that I've been speaking with. It's driven by the aftermath of the present economic crisis and it seems to be combining with the mass behavior transformation that is often referred to as social computing. Put together, these are two of the bigger forces driving change for CIOs today.
The first change is fairly well understood, even if an effective response is sometimes not at hand. It short, it can be summed up as a desire for the CIO to drive revenue instead of funneling the vast majority of their budget into overhead, namely IT operations. For more background on this, see point #2 in this CIO's top ten issues list for 2010 which reports that 80% of their budget goes into keeping the business running instead of seizing meaningful business opportunities.
The second change is one that is broadly altering the operational fabric within which CIOs work and that — for too many business leaders I speak with anyway — is seemingly coming from left field: The very process of interaction with workers, suppliers, and especially customers is evolving dramatically to one that is fundamentally more open, egalitarian, participative, and social.
This change is sometimes referred to as social computing and it's a transformative one for many businesses, whether or not they are preparing for it today. The larger part of the market that most businesses must deal with are moving in this direction, even if most of their operations aren't, at least yet.
Today's Market Conditions Are Driving Social Business
While the transformation to social business is in its early stages, it is does seem to be clearly happening. It's also a significant change for which most CIOs are not adequately preparing, partially because of social computing's roots in the non-enterprise consumer world but also because the business benefits themselves are still often poorly understood. Intriguingly, social computing is also a transformation that can actively help with the first change: a focus on being more relevant as a driver of the business.
In Ray's post he laid out four areas of change that are responsible for the major disruptions in today's modern organization. I believe he is correct in his analysis and so I will paraphrase them here for this discussion on the growing need for CIOs to driving forward social business models to meet their operational objectives.
Before diving in, let's also remember that widespread change tends to be unevenly spread in the business world (often industry by industry), so some organizations may be isolated from these trends for a short while yet. In my opinion however, it now appears that enterprise social computing in several forms will deeply impact the business purview of most CIOs this year. The good news: It will also enable them to drive positive change successfully in both their strategic and revenue generating activities.
The Four Types of Factors
The four major business factors driving social business transformation are:
Macro Conditions. This is the overall business environment including economic conditions, societal trends, and business climate.
Workplace Environment. How an organization is structured and organized today to conduct business, including its present state and emerging trends…