What if customers were often the best people to help other customers? That's the basic premise of an emerging class of enterprise software usually referred to these days as "Social CRM" and which I covered in some detail late last year.
The general concept is that managing customer relationships in the classical way, meaning transactionally and one-on-one can be greatly improved by making the relationship less structured, more participatory, and created around an open community model. Social CRM can manifest itself in many ways, including self-organizing affinity groups within customer communities or by co-managing customer support requests in a shared, open venue, to describe just two popular approaches of many.
These new approaches do appear to transform the relationship that companies have their their partners and customers and are getting on the radar of customer support, product development, and marketing departments this year. But what's at the core of this approach that separates it from traditional CRM?
My good friend and ZDNet blogger Michael Krigsman came away with the following perspective in his recent interview with CRM guru Paul Greenberg:
Successful customer relationships are based on interacting, cooperating, and collaborating with customers to provide mutual value. Technology is an important enabler but is secondary to relationship.
There's been some debate recently on whether Social CRM is part of the broader Enterprise 2.0 story and I think from the statement above it's clear that it is, and it's even more so when you look at close up in the wild. It's worth visiting GetSatisfaction for good real world examples from major, well-known firms.
Social CRM: Enterprise 2.0 with Customers
Enterprise 2.0 itself is popular term that captures the use of lightly structured social environments to collaborate and capture knowledge in a discoverable, reusable way. Typically, these tools are highly social (but don't necessarily have to be) and they're freeform, so that they can adapt to the problem at hand. Finally, Enterprise 2.0 is generally applied in a business setting between at least one to three types of participants: workers, trading partners, and customers. Social CRM fits the bill for all of these criteria, and of course, spans the full range of all three participants.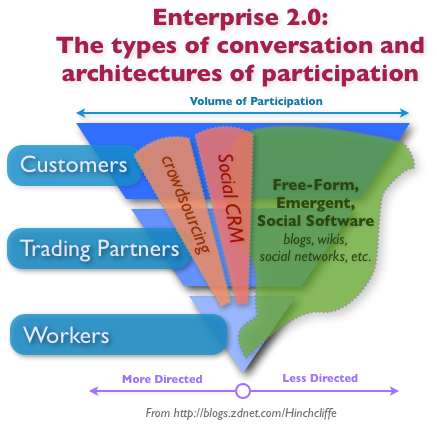 A typical Social CRM scenario is when customers want to communicate their problems (customer support) or desires (future product development requirements) to an organization and they're then given a social channel to do so. This channel could be as simple as a forum so that they can delve into their issue into more detail with the company and other customers. Or it might be something more deliberately structured to help customers support each other or to capture innovation. This structure might involve assigning case numbers or submission IDs and add them to an open, searchable database that can then be updated by anyone.
Whatever the method that is chosen (and it should be as open and freeform as possible), the key to effective Social CRM is that everyone in the conversation can contribute at any time in a transparent and authentic manner. It's probably an understatement to say that this isn't easy for companies used to having full control of the conversation, yet it's critical in order for Social CRM to work. Well known social business expert Jeremiah Owyang agrees, noting today that potent social influence is in the hands of the most customers now, putting companies that don't have a Social CRM strategy into an increasingly difficult situation.
But anyone paying any attention can see the benefits of Social CRM: Closer contact with reality when it comes to what customers need or want, lower costs to engage with customer and resolve their problems or otherwise give them what they need, and ultimately just better results when it comes to having satisfied customers, many of whom actually become very closely connected with the company for everyone's mutual benefit…