I spent some time this morning working with SAP's new 12Sprints collaboration service, which was announced earlier this week. Available free in open beta immediately, it's a cloud-based service that's a cross between Basecamp and Google Wave and is ostensibly designed for team collaboration.
Not incidentally, 12Sprints is also clearly a social application and it includes viral invitation, extensive commenting and discussion capabilities, and interesting new twists on measuring community opinion such as real time consensus tracking.
Make no mistake, 12Sprints shows its SAP heritage and comes across as a sober-minded business tool, even if it's not necessarily an enterprise-wide solution. It joins the ranks of a growing number of new next-generation enterprise collaboration efforts from major vendors that take social computing and Enterprise 2.0 seriously, including IBM's new Project Vulcan, Google Wave, Salesforce Chatter, TIBCO's Tibbr, and arguably Microsoft SharePoint 2010.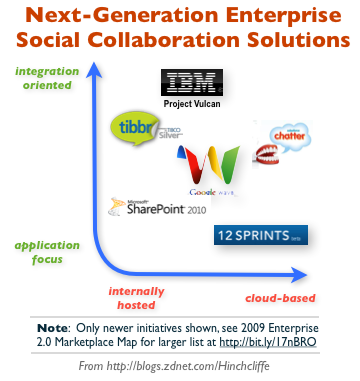 Not that 12Sprints is neither as large and complex as SharePoint nor a grand unified vision like Project Vulcan or Chatter. Instead it has a solid focus on on-the-ground collaborative decision making, group discussion, and project planning. It's clear though that it can grow far beyond these functions with its open architecture and flexible structure and will likely do so as it matures.
12Sprint's activities for social collaboration
The basis of operation for 12Sprints is the activity, which can be one of the following types below. An unlimited number of these can be engaged in at any time and a search function and various timelines are offered to make large amounts of activities manageable and navigable.
Prioritization Activity. Create shared goals/objectives, rank them, and capture the final outcome
Project Planning Activity. Define a timeline, project objectives and goals
Decision Activity. Define a situation, set options, gather consensus, reach a final decision, obtain sign off
Discussion Activity. Define a topic for discussion, build a threaded discussion, capture the results
Meeting Activity. Arrange a meeting, record notes, capture decisions and action items, and define next steps
Research Activity. Define a research topic, collect and share relevant artifacts
Blank Activity. A freeform slate for collaborative activities.
It's important to note that 12Sprints doesn't try to be the best at everything, a fault that's endemic to large enterprise application suites and which is wisely avoided here. It does however integrate with best-of-breed services where it makes sense, whether they're from SAP or not. This includes WebEx, Evernote, and Scribd, with the first two custom-integrated and the latter as part of their extensions program. With extensions any developer can onboard their functionality to 12Sprints, which offers users an experience not dissimilar to an app store and makes it possible for anyone to enhance the platform.
Who will find 12Sprints compelling? Those who have traditional, non-collaborative desktop and communication tools. E-mail and instant messaging is an obvious competitor for many of the tasks that 12Sprints targets, while Microsoft Project, Web conferencing, and knowledge/document management tools are as well in terms of more directed and less open-ended apps…