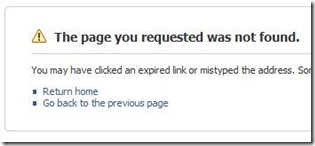 I am not a frequent facebook-er, may even get lost navigating it.  But I thought clicking on my own name, or "Profile" should be fairly straightforward.
Oops… facebook says:
The page you requested was not found.

You may have clicked an expired link or mistyped the address. Some web addresses are case sensitive.
I know I'm not exactly Gen-Y, but could Facebook have simply decided I've expired?

Update:  I'm not alone, have company in Facebook Purgatory.