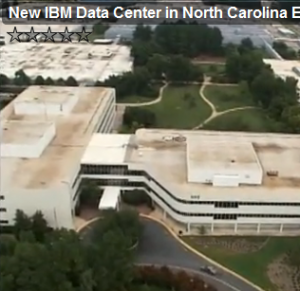 IBM sent me a press release announcing their $ 362 million data center in Research Triangle Park. Too bad they did not showcase it a month ago as I could have worked it into my upcoming book. In contrast, I have a nice interview with Mike Manos on Microsoft's next-gen data centers.  And they did break ground with container design, data center management software, cooling and other innovations
Scouring outsourcing world, I looked for rethinking of business models and global delivery models and their partnering with interesting new technologies. Cognizant rose to the top quickly – – because there is a fascinating story around how it grew in its first decade and how in recent years it has been diversifying its delivery from multiple countries – a complex process while trying to keep service consistent.
I also profiled what Accenture is doing with devices from Bug Labs – positioning the device with its Accenture Mobility Operated Services (AMOS) to track fleets and other logistics applications. And Accenture's fees around those products will be transaction based, not based on its traditional billable hours model.
But the reality is that is a tiny, tiny bit of Accenture's $ 25 bn revenue. I found a similar innovation barrenness is most traditional outsourcing vendors – the IBMs and the EDSes and even Indian providers like TCS and Infosys. Way too many of them are contemplating their navels – who is the next SAP? How can we make money in the iPhone App Store? Or they are still dissing public clouds as insecure so they can carry their multi-year, overpriced older data center contracts to completion – yes, that counts as innovation.
Most recent innovation in application management services has come from SaaS vendors like salesforce and NetSuite, data centers from cloud providers like amazon, systems integration from next gen service firms like appirio which does SaaS implementations and develops its own software and process services from firms like Corefino, which is blending BPO and SaaS into its services.
I blogged similarly , a few weeks ago, that in telecommunications little of the innovation has been coming from the traditional telcos – Verizon, BT etc – but more from the Apples, Googles, Skypes, Plantronics and new telcos like Bharti in India. Outsourcers, like telcos, invest little in R&D – and when they do it is more marketing expense as they build out "solution centers" or invest for proposal specific efforts. Recent large data center investments and innovations have been made more by Microsoft and Yahoo and Google, not HP or CSC.
So, here is the depressing reality. Two of the biggest spend categories in the CIO budget – telecom and labor services – are yielding little innovation. And when you throw in annual maintenance charges from enterprise software vendors which are merely tweaking version 7, 9, 12 of their software, is it any wonder that on average companies are spending 5% of revenues on IT which yields tiny amounts of innovation?