There's been some useful discussion recently about using the app store model for distributing enterprise software and services within organizations. Up until now, most IT needs in the majority of businesses have been met through one-size-fits-all delivery of solutions that are either hand-crafted or purchased and then imposed on all. It's been this way for at least three decades, but now this aging and inadequate process is beginning to improve.
The premise of an app store model for enterprises is simple: By removing the middleman, the famous bottleneck between the business and IT demand can be reduced in many cases. Application backlogs can shrink, consumption of internal and external IT resources will increase, and fierce competition to provide the best solutions to niches can greatly improve overall quality (the long tail of IT argument), all while reducing costs. At least, that's what is possible if we look at what's happening to the non-enterprise software market today.
Related: The app store: A "must-have" new digital business model
Fellow Enterprise Irregular Jevon MacDonald posits this as a likely outcome of the emerging Personal Enterprise. Current trends involving the mass personalization of services and the consumeration of enterprise IT have come together and resulted in ready-to-use catalogs of IT solutions that are much easier to acquire and consume today than they from traditional channels. Jevon cites Force.com, Intuit Marketplace and Get App as current examples of app stores for enterprises and SMBs, to which I'd definitely add IBM's Smart Market. Google is even rumored to be ready to release an enterprise app store of its own soon.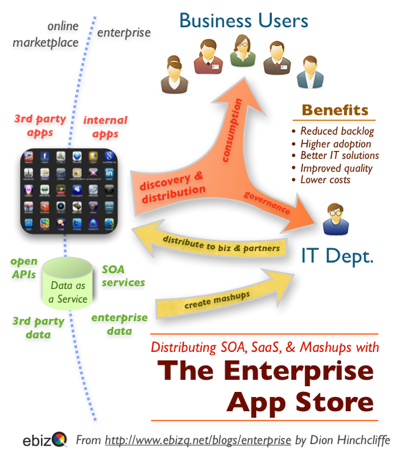 Even the Web itself has become a sort of ad hoc app store writ large in the cloud with thousands of SaaS applications available today that most enterprise users can acquire and use with little or no provisioning or support from IT.
In this view, monolithic enterprise deployments become rarer and IT solutions begin to look more like their counterparts online: smaller, more specific apps that fit the local conditions better (and are usually cheaper too). That this might actually happen is evidenced not only by the already existing enterprise app stores today but by the work currently going into rethinking of IT in terms of emergent enterprise architecture (intentionally) and the growing use of shadow applications in the cloud (grassroots).
App Stores: Not Just For Apps
ebizQ's own Joe McKendrick recently explored the app store's applicability to service-oriented architecture (SOA) this week, quoting George Ravich, who promulgates the SOA-as-a-store approach to enterprise users in the same way that iTunes is available online to get whatever one needs at the time: "The SOA service catalog promises to have the same impact on enterprise computing as the iTunes playlist has had on listening to music."
SOA has always been an approach that promotes reuse and interoperability between existing IT systems. Those who have adhered to SOA principles have been able to project their services and data into widely distributed and far-flung IT solutions, both within and between organizations. But successfully driving SOA consumption has been hard, and the focus is too often on opening up services instead of focusing on increasing usage. But the SOA industry quickly hit upon a potential solution. Proving that what is old is new again with the app store model, there have been commercial service directories for a long time now that have have helped organizations maintain open inventories of services, such as StrikeIron or IBM Mashup Center…