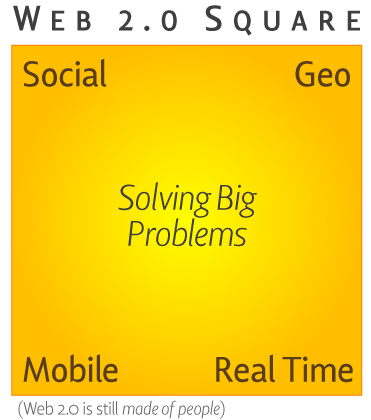 The theme of this year's Web 2.0 Summit is web squared (pdf). That is, its time to focus on impact in the real world.
Fred Wison says the big trends driving this space are social, mobile and real time — to form a golden triangle.
I'd suggest geo, or location, provides as big of a vector for exploration and impacts the others. Geo has always been the missing dataset of the web, but very soon all mobile devices, browsers, laptops and specialized devices will provide geotagging. Geo will become a facet of the other three trends, becoming ubiquitous in existing services, and the founding opportunity for new ones.
But tech trends alone don't make a big opportunity for entrepreneurs, solving big problems does. Which should be at the center of your thinking.
And its all still made of people.