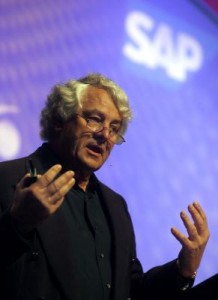 This weekend, it was announced that Leo Apotheker was leaving SAP immediately. Leo had been SAP's CEO. Replacing Leo would be co-CEO's Jim Snabe (focusing on technology) and Bill McDermott (focusing on sales). Also announced was the elevation of Vishal Sikka, the company's CTO, to SAP's Executive Board (the management board).
Recently, it had been widely rumored that Leo's contract would not be renewed, and that a new CEO (or co-CEOs) would be brought in to replace him. Names bandied about for his replacement included:
Wendelin Wiedeking, a former CEO of Porsche, currently being investigated for insider trading,

Jim Hagemann Snabe, head of products at SAP, and a member of the executive board there,

William (Bill) McDermott, head of the field (sales and services) at SAP, and a member of the executive board there, and


John Schwartz, former CEO of business objects, and a member of the executive board of SAP.
Apparently, the rumor mill was fairly efficient this time.
This morning, SAP had a conference call led by Hasso Plattner, and including the SAP executive team. While I couldn't participate, thanks to the magic of twitter, I was able to follow along. Below are some of the key tweets that came out during the call – definitely gives a good flavor of what happened, although not quite a transcript:
twailgum #leogone I said it last night, and I'll say it again: "SAP, Who Are You?" Hasso offered direction this a.m. We'll see where this all goes.
rwang0 #leogone gives #SAP a chance to start a new. Focus needs to be on products http://bit.ly/9mEuQ0
rwang0 Not sure why Plattner references Oracle's best years with Ellison and Ray Lane #sap #leogone
monkchips "we made legal and political mistakes. we made a mistake, now we need to work to regain the trust of customers" #sap #leogone bout time!!!
hschepp Hasso: Customers have to maintain and innovate. SAP will help them to achieve both! #sap #leogone
sig With Hasso at the helm I expect to hear a lot about "massive.." this and that technology from #sap until further notice 🙂 #leogone
yojibee Hasso: It would be wonderful to be a startup company without a history #leogone <<>
hschepp Hasso predicts "significant changes" in enterprise computing #sap #leogone
yojibee Hasso's answers to why Léo left: "I decided I will only make forward looking statements." #leogone
yojibee Bill and Jim will keep their responsibilities, but increase the scope of their roles. They won't be just CEOs #leogone
amitsharma1382 Is anyone thr, is anybody out there who still feels #SAP is not a cmpny which respects employees, #leogone is your answer .salute 2 candid
paulhamerman #SAP #leogone co-CEOs have been used before at SAP, usually as part of a transition of power. Seems to be a bit different this time.
yojibee Hasso: I am responsible for making the change. #leogone
yojibee Co-CEO was never a short-term strategy. One is focusing externally on customers/sales and one is focusing internally on development #leogone
hschepp Hasso: In order to be profitable you have to be a happy company #sap #leogone
paulhamerman #SAP #leogone Kudos to Hasso for his candor about the trust issue.
MichaelKroker Plattner: "Have to re-establish trust between differenz parts of #SAP, ie. Management, Supervisory board, Employees & Customers" #leogone
yojibee Hasso: Thank you customers. To endusers: please trust us, we haven't forgotten about you #leogone
monkchips to end users: "please trust SAP, we have not forgotten you". is Plattner reading from Renault's script? #leogone
paulhamerman #SAP #leogone New in memory DB will be showcased at Sapphire Orlando.
hschepp Hasso: Now talking about ByD. "Looks good now. Optimistic this year will be very good for ByD." #leogone #sap
yojibee The lack of success of ByD was not a reason why the contract with Léo wasn't extended #leogone #sap
yojibee Hasso: We have strengthened our focus on on-demand solutions. (mentions @12sprints) #sap #leogone
hschepp Hasso: No disagreements about strategy with Leo. #leogone #sap
yojibee Hasso: Focus is on growth, margin and innovation #sap #leogone
hschepp Hasso: All areas of SAP has to accept the strategy of change. #sap #leogone
paulhamerman #SAP #leogone Ernie Gunst, COO of SAP, has left for health reasons.
monkchips so Hasso runs SAP. tell us something we didn't know. #leogone
yojibee Hasso: We will have changes in management style. For instance: Agile project teams #sap #leogone
hschepp Hasso: Radical changes have to take place in development where necessary. #sap #leogone
MichaelKroker Hasso Plattner: "No difference in opinion between Léo and me on Strategy", "No Problems with Business By Design" > Wonder why #leogone then?
paulhamerman #SAP #leogone Hasso: SAP must reestablish trust among all parties, must change this quickly.
Blogs sprung up over the weekend, speculating on the changes and what they mean. Some of the key posts were:

Of course, now that the conference call has happened, I'm sure there will be a new set of analyses popping up, and the Enterprise Irregulars blog site is where you'll be sure to find the best analysis.
So, what is behind all these changes? My opinion, for what it's worth: Hasso Plattner wants to drive a great deal of technological innovation at SAP, and did not believe it could happen under Leo's leadership, and without Hasso's very direct involvement. Hasso has a great deal of confidence in Vishal Sikka's technology perspective, and Vishal was appointed to the Executive Board as part of this change, pointing to Hasso's desire to unleash a new wave of innovation at SAP. Jim Snabe will be given the opportunity to bring all of SAP's products under one head (both development and product ("solution") management). Bill McDermott has certainly already proven that he can run SAP's field, so there is not much risk in this change. Perhaps the biggest risk is on the product side. The product organization is full of conflicting technologies, conflicting interests, and conflicting agendas. Driving change in this kind of climate will be very challenging for Jim and Vishal.