Earlier this afternoon Google Buzz went live after a comprehensive launch event streamed live over YouTube. Buzz is a brand-new social tool that helps users to share updates, links, photos, videos, and more with the online world at large.
Google founder Sergey Brin has been quoted as saying that Buzz gives us the ability to post a message to the Web without a 'to' line. The service is location-aware and works on the Web via Gmail or using a mobile interface on the iPhone or Android.
Available as of today for consumers, Google has already announced that it plans for an enterprise version of Buzz as well. Given the popularity of enterprise microblogging applications like Yammer, it makes sense and as we'll see in my upcoming analysis of social computing for 2010, Google has been wise to tie it closely to an already widely used service and not force it to succeed on its own.
Given the huge amount of coverage already of this announcement, I'm not going to review the features of Google Buzz in detail, you can find that from the live coverage captured by ZDNet's Sam Diaz or the just-posted screenshot gallery. Below are my first impressions of Google Buzz from a strategic point of view, which I was able to use for a short while before writing this post.
An analysis of Google Buzz
One of the few places that Google doesn't dominate the Web today is in the social arena. It's a world where Facebook has a large lead and where Google isn't even #2 or #3. Consequently any entries that Google makes in this space are going to be very closely watched indeed. This happened with Google Wave last year and there's likely to be a virtual mountain of analysis and dissection before it's all done with this service.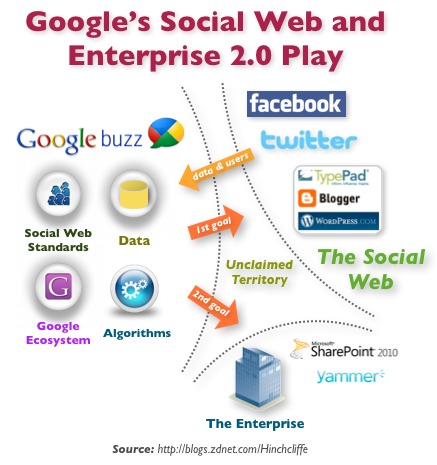 My take: Google Buzz is well-designed and useful but it's going to be seriously challenged because the very people most likely to be interested in Buzz will already have places to carry out their online social activities. This means Google Buzz may end up being more useful in places where there's a lot less dominance by the consumer Social Web, such as in the enterprise.
In no particular order, here's why Google Buzz is significant nonetheless, for as much for how it tells us how Google looks at the world of social computing as for the way these capabilities will almost certainly migrate and blur into a common social feature set in other Google products such as iGoogle, YouTube, and Picasa.
Buzz is an intelligent personal activity stream that's designed to scale. Buzz is not just a FriendFeed-like aggregator of everyone you know; it uses analysis to try to sort out what makes the most sense to you at the moment. A few minutes using Buzz convinced me that this is going to be essential if the service isn't going to be overwhelming. It's already fairly addictive with just a few followers, I can only imagine when you have hundreds. A few commentators, such as Jeff Jarvis, have already (rightly) pegged this a major attempt to address what Clay Shirky calls filter failure to cope with the information explosion challenge of social media and Enterprise 2.0. As Google pointed out in their introduction, dealing with this problem effectively in scale has significant business benefits. In particular, it'll be very good for Google's advertising model while making social computing potentially much for compelling and efficient for an important audience that's very valuable indeed: large enterprises.
Google believes that good data and computational analysis are the key to success with hyperlocal and hyperpersonal. And in this, they are probably not wrong. Geolocation abilities are built directly into Buzz as a primary dimension of its social experience (which was even described as 'beautiful', an adjective used more often by Apple for its products than by Google). As for hyperpersonal, in Buzz this is driven by underlying algorithms that filter and guide the user experience. Google's VP of Engineering, Vic Gundotra, noted that Google's insight into the early Web with the famous Page Rank algorithm drove their initial success. He went on to hint that they believe the same algorithmic insight into the Social Web will succeed with Buzz. Either way, Google has clearly used its competency in data and computation to attempt to one-up today's online social networking services. The stakes for this bet are high: The success (or any lack thereof) of the end result will in no small part be due to the real-world effectiveness of these features.I do think they're generally on the right track here but the left brain approach to the Web that dominates Google's product strategy tends to obscure the notion that social systems are also highly self-organizing and emergent. Capitalizing on this and encouraging bottom-up network effects has been the key to incredible success for those that have figured out how (i.e. Facebook and Twitter). Thus Buzz at times makes you feel like a rat in someone else's maze. Time will tell if this ultimately produces better outcomes or not…
Related articles by Zemanta