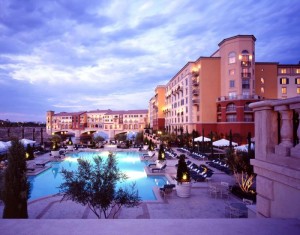 I've been reading about some of the troubles that the Las Vegas hospitality industry is going through (as well as getting a lot of promo email for $40 a night suites at Mandalay Bay) and it again reminds me that populist uproar is neither rational nor constructive.
Luxury hotels have also suffered from the backlash from the so-called "AIG effect," referring to the uproar caused by American International Group's decision to fly top brokers and executives to a resort shortly after receiving a bailout check from the U.S. government.

"The whole demonization of luxury meetings and companies' pulling back on having their high-end meetings in luxury hotels — this has had a tremendous impact on Las Vegas," Deuschl said. "I can't think of another destination that has had to defend itself more against comments from politicians."

[From Ritz-Carlton to close 5-diamond Las Vegas hotel in May]
Companies are pulling back on travel expenses in a significant way, there is nothing populist about that, but it's equally obvious that few companies want to be seen throwing large events in Vegas despite the fact that if you are holding a large event Las Vegas is probably one of the most cost effective places to do it.
It is a city built for large influxes of non-residents which means hotel rooms are plentiful and when purchased in blocks they are cheap, transportation is efficient because the airport is relatively close to the Strip, taxi service is abundant, and walking is an option, and lastly, the primary entertainment (gambling) can't be expensed.
Orlando features similar cost dynamics but the problem with Orlando is getting there if you are not already on the east coast and that drives up air fare significantly.
I can guarantee you this, try hosting 250 guests and support staff in New York, Washington D.C., or San Francisco and then compare the fully loaded cost to Las Vegas, the result will be eye popping. So I ask you are we really being served by demonizing companies for daring to hold their events in Las Vegas or is it a cheap and convenient ploy by politicians to "feel our pain"?

Related articles by Zemanta