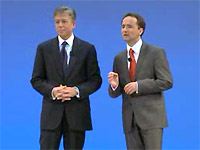 In one of life's little ironies, I was in the airport  last Sunday on my way to Europe– and a series of meetings in Walldorf – when I got a call from SAP. The rest you probably know: the SAP board decided not to renew the contract of Léo Apotheker – who succeeded Henning Kagermann barely a year ago — and Léo resigned.  The reins have been passed to two stalwarts of the SAP leadership group, Jim Hagemann Snabe and Bill McDermott. And now for my analysis.
The SAP that Bill and Jim are taking over is one that has been beset by a number of problems in the last two years, some self-inflicted and some caused by a combination of market forces no one could have either anticipated or planned against. The good news for SAP – and the bad news for its competitors – is that the two new co-CEOs are not only seasoned veterans of SAP and the enterprise software market, but provide an important synergy to the leadership of SAP at a critical juncture in its history.
The first, and perhaps most important part of this new leadership team is the blending of sales –Bill's bailiwick — and product development – Jim's mandate. Both men have a strong commitment to building a strong eco-system for SAP, and both understand the need to change SAP's image in the world from an old, stodgy, big-bang enterprise software company to a more nimble, innovative, and consumable product and services company. And just in case they ever lose site of that objective, Hasso Plattner is back, as if he ever really left, in an active role driving the innovation strategy through direct influence and the indirect influence of the newly ascendant CTO, Vishal Sikka.
Bill and Jim also represent a continued shift towards the globalization of SAP, away from its German roots. (Though those roots are still firmly maintained by Plattner.) Bill sits in Newtown Square, and Jim has steadfastly maintained his Danish home in recent years, though I would expect them both to be in Walldorf more than either would perhaps even like. The appointment of CTO Vishal Sikka – who is based in Palo Alto – to the board is further evidence of this tectonic shift. Vishal joins fellow board member John Schwarz in bolstering the power of the California contingent and the mentality it promotes: strong ties to the concepts and precepts of software development that have been nurtured in the Petri dish of Silicon Valley, primary among them innovation and rapid time to market.
This California focus also includes a strong understanding of the value of having SAP seen as an insider in the US software market – fellow Palo Alto execs like Marge Breya have been leading this charge as well. While we Silicon Valley types tend to flatter ourselves with our own self-importance, the fact remains that market forces look to the trend factory that is Silicon Valley for the metrics by which a software company's importance is measured. SAP needs to have more skin in this game if it wants to be perceived as an innovative, which is job number one for the foreseeable future at SAP. The more players SAP has in Palo Alto the more this job will get done.
In a side note, this requirement is why SAP's recent push with its 12Sprints beta program and its sponsorship of the Enterprise 2.0 Adoption council are important: Joining the collective sand box of ideas that 12Sprints and E20 represent is part of being seen and understood as an innovator in the market.12Sprints has some important obstacles to overcome – don't think that this isn't obvious to Marge Breya, its principal sponsor. But everything about the product – what it represents, how it was developed, and how SAP plans to perfect it through work with groups like the Enterprise 2.0 council – are solid proof that SAP can be agile, innovative, exciting and – most important of all – willing to take risks and push boundaries in the quest for bringing new product to market. This is the kind of innovative risk-taking that I believe SAP needs to undertake in order to be a strong player in the same league as Oracle, IBM, and Microsoft.
With SAP's need to be seen as innovative comes the need to be seen as cost-effective as well. One of my strong hopes for the new team is that they will consolidate the many internal initiatives regarding cost, ROI, and value, and make those efforts part of a single strategic initiative that puts forth real, measurable metrics for value in the market. There is no other more important requirement for SAP than this opening up of the value equation it can and will provide to its customers.
This doesn't just make SAP more customer centric, but it also will help shift the debate from the single metric that has bedeviled SAP for two years – maintenance costs – to a more comprehensive value equation that makes more sense for customers, the market, and SAP as well. Doing so throws down the gauntlet to the rest of  industry to raise the level of discourse about cost and value with customers to something worthy of the market's collective intelligence, as opposed to the least-common denominator, sound-bite caterwaul about maintenance costs that has mocked the intelligence of SAP's customers for the last two years. (This, by the way, is the worst of the self-inflicted wounds of the last few years.)
I also hope that Jim and Bill work to make the ecosystem in the field as strong as SAP's ecosystem strategy promises. The reality of the strategy is that its theory comes from Palo Alto but its practice has been too rooted in old guard, Walldorf-centric thinking. Too many great opportunities for meeting customer requirements and filling in SAP's white space have gone off the rails because the right partner for the job can't get past the bureaucratic obstacles inside SAP. This is the perfect opportunity to have a fresh start in fulfilling the ecosystem's promise: Singh Meeker only recently took over the job top job in the ecosystem group, and giving him the flexibility to make the ecosystem promise a reality would be good for everyone, customers and SAP alike.
Finally, let me praise Léo Apotheker at the end of his SAP tenure with a warning to those who write off the last year as a complete loss. Under Léo SAP started a number of initiatives that haven't necessarily seen the light of day, but have the potential for making Jim and Bill's job a whole lot easier in coming years. Despite the flaws that Léo himself has acknowledged, there was significant progress in a number of key areas – innovation and value among them, as well as support for the renewal of Business ByDesign – that were part of a sincere effort to improve SAP's position in the market. As those initiatives see the light of day there will be many others who can legitimately claim ownership, but Léo's stamp will be there as well.
In the end this is a positive move for SAP – Léo's dismal internal approval rating alone would be reason enough for the board to consider some way to make SAP a more cohesive unit. And the company's market position and challenges don't go away just because there's some new talent in the top spot, but the ascendance of Jim and Bill will only help. How well they seize the opportunity will in many ways determine the future of SAP. The clock is already ticking.