This was my sixth trip to Vegas this year. Coming from humid Florida, I have a routine for that city. Gallons of water and lotion to compensate for the heat and dryness. Gear to protect against the excess of artificial light and sound. But this time in town for Workday Rising, Vegas felt a bit different. The remnants of Hurricane Rosa cooled it down to pleasant levels. The ceremonies honoring the anniversary of last year's mass shooting gave the city a bit of humility.
Rising also felt different. CEO Aneel Bhusri justifiably missed the event due to a family emergency. While his executives made up in energy, I missed the annual comedy routine he and co-founder Dave Duffield put on. In many other ways, Rising was different.
Analytics as the third "pillar"
There was palpable excitement about Prism Analytics launched in the last year. Many customers see it as democratizing complex analytics and bringing the wizardry of teams of expensive data scientists and complex platforms like Hadoop to the average user.
Prism was spawned from the Workday acquisition of Platfora. Its collaborative Worksheets grew from the acquisition of Gridcraft. Many other small acquisitions other the last few years have helped built Workday's machine learning chops. It is safe to say Workday has been building a third pillar of intelligent apps beyond its first two transactional ones in HCM and Finance.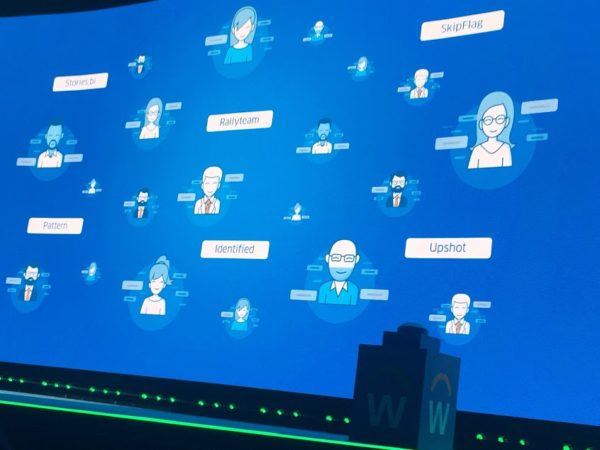 The Adaptive Insights acquisition, Workday's largest so far, was an resounding endorsement of that third pillar and got plenty of play at Rising. Releases 32 and 33 due next year will heavily feature planning functionality, improve Adaptive look and feel, and importantly expand it significantly beyond its financial planning roots.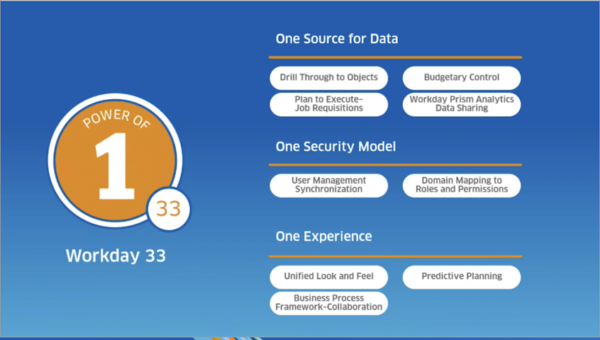 For a few years now, I have felt HCM world has been out of touch with the realities of the labor economy. As a result, we have ended up with gross mismatches where 6m blue collar and trade jobs are unfilled, and on the other hand we have too many white collar graduates with $ 1.5 trillion in student debt.  Less than 10% of the civilian workforce is on the payroll of F500 companies. The rest are not in the so called gig economy. They are in Tier 1 and 2 suppliers. They are in accounting, advertising, attorney and other service providers. They are on platforms of companies like amazon, eBay and Apple. They are in franchises of companies like UPS and Ace Hardware. Talent management software has missed this transition to a clover-leaf  labor model . You have an economy with rapidly changing occupations and skills (the Bureau of Labor Statistics recently expanded their list of occupations). Every occupation is being re shaped by a wide range of automation like robotics, drones, wearables. HR seems vaguely interested in automation trends. Given all this, I was pleased to see Workday announce their Skills cloud – a taxonomy of 55,000 skills based of winnowing down using ML from over a million user defined skills. That is a start to bring rigor to HCM, and hopefully to start to correlate it better to the macro job economy.
The relative de-emphasis of industry verticals
If Analytics is getting plenty of attention at Workday, something else may have to give. In my view, that is investment in vertical functionality.
As I wrote recently I have been disappointed with the pace of verticalization in cloud solutions. Way too many vendors spray paint an industry specific feature or two on top of their horizontal financial, HCM or CRM modules and call that verticalization. My expectations for verticalization are more demanding from two angles
– I want to see a significant industry "book of record" offering. If you say you are committed to retail, I want to see a robust offering and a sizable customer base in the merchandising area. If it is insurance, show me similar around claims processing. If it is utilities, I want to see a billing engine, and one for complex asset management and maintenance.  If it is healthcare, show me electronic patient records. If it is oil and gas, show me functionality their geologists consider critical.
– I also want to see contemporary functionality. Show me something customers can plan a serious digital transformation around. So, for example, if you say you are committed to manufacturing markets show me execution support for a modern shop floor with robotics, sensors and wearables.  For utilities, show me support for net metering and for plants fired by renewable fuel.
From my more demanding definition, Workday has truly verticalized only in higher education. While it has features which are aimed at specific industries, it does not have books of record. It is increasingly clear it sees a much better path to keep investing in its three pillars. I cannot fault Workday for that focus, just worry its horizontal sandbox is attracting too many other players even as much of the white space in industry functionality gets little attention.
The emergence of Workday Ventures and the Workday platform
At Rising, I was invited to a breakout with 12 portfolio companies in the new $250M Workday Ventures fund. The billing was "The companies in our portfolio solve problems that we don't solve natively in our Workday applications. Our portfolio companies leverage the latest technologies and have proven that they are ready to serve our enterprise customer. All Workday Ventures portfolio companies are now official Cloud Connect Partners and are using our APIs to build integrations."
I meet with 3 portfolio companies.  Voicera offers Eva, an in-meeting AI assistant. Eva will take notes for you in meetings, or conference calls, or interviews. Indeed as I was taking notes, I noticed Eva was live-transcribing our conversation. I quit writing and asked Omar Takawol, CEO to send me a transcript. I had previously met Omar when he sold BlueKai to Oracle. I have a feeling Eva may play a big role when I write my next book.

Next up was Pymetrics which develops  neuroscience games to help companies rethink their talent management strategies. I had previously profiled CEO Frida Polli on New Florence. Suplari provides unified insight into indirect expense spend – contracts, spend across AP, P-card, T&E, POs, and invoices, as well as usage and consumption data. CEO Nikesh Parekh joked the company name has roots in consigliore from the Godfather books and movies.  Each of the portfolio companies I met was impressive and I wish I could have spent time with the other 9.
Leighanne Levensaler, SVP of corporate strategy and co-head of Ventures explained their investment philosophy. Their biggest KPIs, beyond a fund's expectation of investment returns, are Workday customer adoption and embrace of emerging Workday platform technologies. On the first point, she said they had arranged for over 150 meetings between existing customers and portfolio companies at Rising.
I went over to SAP' TechEd a mile away in Vegas after the Rising event. It gave me a glimpse to a parallel universe we may similarly see emerge around Workday as its own platform evolves. A world of Mentors and geeks who are way more comfortable talking Kubernetes than about building blocks of organization hierarchies in Workday.
Workday organized an analyst dinner at a restaurant with a large balcony. The temperature was pleasant but the noise and neon signs of Vegas bombarded your senses. I looked up and saw the desert sky. It took me to many pleasant memories of shooting stars and the haunting silence my wife and I have enjoyed a short distance from Vegas in Death Valley in CA, Antelope Canyon in AZ and Zion National Park in UT. It reminded me Vegas is a gateway to a whole different world.
Workday is becoming a similar gateway to the rest of the enterprise. While they are moving away from a transaction focus, their analytical and ML chops will open up new insights, and their platform will introduce a new set of developers and startups to the rest of the enterprise. It's their way of transitioning from a system of record to a system of insight.