Retail Innovation Continues To Improve As Budgets And Margin Grow
Over 40,000 attendees gathered at Jacob Javitz convention center in New York City for the annual big show (see Figure 1.) The show kicked off with a keynote from BJ's Wholesale Club Chairman, President, and CEO Chris Baldwin. Chris conveyed the impact of retail on the economy with $2.6 trillion in US GDP, one third of Americans starting their first job, and one in four jobs in the U.S. Despite the stereotypical grim outlook, Baldwin noted that retailers had 2,000 net new store openings in 2018.
Figure 1. Registration at Javitz Center
Top Trends Highlight A Business Model Shift
Top retail trends for 2019 include both technology and business model shifts (see Figure 2). New business models include:
Mass personalization at scale
Multi-channel return optimization
Private labels
Checkout free retail
Pop-up stores
Small format stores
Stores as distribution centers
Digital supply chains
Micro warehousing
Figure 2. Retailers navigate exponential tech amidst new business model shifts #NRF2019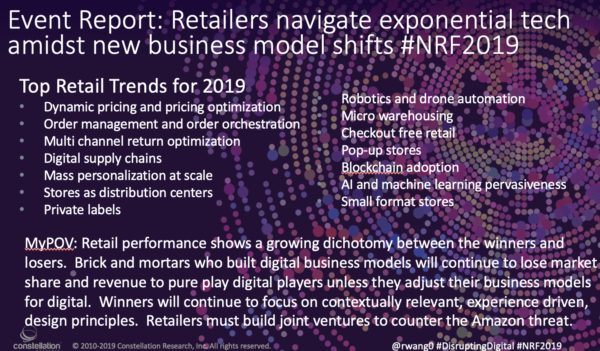 Key technology trends in order of importance:
AI and machine learning pervasiveness
Dynamic pricing and pricing optimization
Order management and order orchestration
Robotics and drone automation
Blockchain adoption
The Bottom Line: Retailers With Digital Efforts And New Business Models Will Win
Retail performance shows a growing dichotomy between the winners and losers. Brick and mortars who built digital business models will continue to lose market share and revenue to pure play digital players unless they adjust their business models for digital. Winners will continue to focus on contextually relevant, experience driven, design principles. Retailers must build joint ventures to counter the Amazon threat in order to invest enough in innovation. Partners with public cloud service providers such as Google Cloud and Microsoft Azure will be required to beat Amazon.
Your POV.
Did you enjoy NRF 2019? Are you in the midst of a retail revolution? Add your comments to the blog or reach me via email:
R (at) ConstellationR (dot) com
or
R (at) SoftwareInsider (dot) org.
Please let us know if you need help with your Digital Business transformation efforts. Here's how we can assist:
Developing your digital business strategy
Connecting with other pioneers
Sharing best practices
Vendor selection
Implementation partner selection
Providing contract negotiations and software licensing support
Demystifying software licensing
Reprints can be purchased through Constellation Research, Inc. To request official reprints in PDF format, please contact
Sales
.
Resources And Related Research
Trends: Constellation 2018 Enterprise Awards

January 3, 2019

Big Idea: December 10th, The Future Of The Internet And Human Rights In A Digital Age November 26, 2018
Monday's Musings: Seven Common Failures Plague Board Room Strategy In Digital Transformation May 7, 2018
Digital Transformation Digest: Amazon AR View For Android, SAP Leonardo In Telecom and Cars, MIT AI Chip Makes Neural Networks Mobile February 27, 2018
Digital Transformation Digest: Mobile World Congress and 5G, Samsung Galaxy S9 and Google Assistant Gets A Boost February 26, 2018
Event Report: Microsoft Biz Apps Analyst Day Highlights Strategic Transformation #MSBizApps February 14, 2018
Digital Transformation Digest: Oracle Bets Big On Cloud, Eye On Amazon Domination, and New Investments In Enterprise Tech February 13, 2018
Digital Transformation Digest: Arizona Accepts Crypto For Tax, Google Rumored With iMessage Competitor, HomePods Sound Good February 12, 2018
Research Report: Constellation's Futurist Framework (PESTEL) – The Societal Outlook Pre @Davos #WEF18 January 18, 2018
Research Report: Constellation's Futurist Framework (PESTEL) – The Economic Outlook Pre @Davos #WEF18 January 17, 2018
Research Report: Constellation's Futurist Framework (PESTEL) – The Political Outlook Pre @Davos #WEF18 January 16, 2018
Research Report: What's Top Of Mind From SAP Customers December 19, 2017
Research Report: Demystifying Artificial Intelligence November 16, 2017
Personal Log: What I'm Thankful For This Year November 23, 2017
Monday's Musing: Infinite Ambient Orchestration November 6, 2017
Tuesday's Tip: Know When To Automate With Artificial Intelligence September 19, 2017
Personal Log: Congratulations To Constellation's BT-150 Winners #BT150 September 6, 2017
Event Invitation: Radical Candor Author Kim Scott Delivering Keynote at Connected Enterprise 2017 August 29, 2017
Research Summary: Constellation ShortList™ Integration Platform as a Service (IPaaS) August 13, 2017
Research Summary: Constellation ShortList™ Synchronous Ledger and Blockchain Platforms August 13, 2017
Event Report: FinancialForce #FFComm17 June 22, 2017
Research Summary: How Ensono Used Workday Finance And HR Cloud To Innovate And Save Money April 12, 2017
Event Report: NASSCOM #NILF17 Highlights Need For Re-Skilling And Move Beyond Trump February 18, 2017
Personal Log: Leading CXO Influencer, Dion Hinchcliffe (@dhinchcliffe) Joins Constellation Research April 3, 2017
Event Report: #GoogleNext17 On Path To Enterprise Ready March 9, 2017
Tuesday's Tip: Seven Universal Factors Why Technology Firms Fail January 10, 2017
Monday's Musings: Dynamic Leadership – A Responsive And Responsible Approach #Davos #WEF17 January 2, 2017
Monday's Musings: Why A Bi-Modal Approach to Digital Transformation Is Just Stupid December 12, 2016
Monday's Musings: Secrets Behind Building Any AI Driven Smart Service November 28, 2016
Trends: Five Data Center Trends For 2017 November 12, 2016
News Analysis: America In An @RealDonaldTrump Era – Everything International Clients Need To Know PESTEL Part 1. November 10, 2016
Research Summary: Constellation's AstroChart For Tech Trends October 17, 2016
News Analysis: @Adobe @Microsoft Partner Up For Marketing Cloud, Azure and #AI #MSIgnite September 26, 2016
Monday's Musings: Understand The Spectrum Of Seven Artificial Intelligence Outcomes September 18, 2016
Monday's Musings: CXOs Seek Enterprise-Grade Mobile Solutions Despite Seven Barriers August 16, 2016
Personal Log: Pulse Shootings And The State Of America June 12, 2016
Research Summary: The Algorithm of You – How IoT Transforms and Differentiates Customer Experience May 12, 2016
Research Summary: Reltio Powers Data-Driven Applications on a Modern Platform-as-a-Service May 4, 2016
Research Summary: SAP User Experience-as-a-Service April 27, 2016
Research Summary: FinancialForce Spring Release Shows Innovation In Personalization And Collaboration March 1, 2016
Monday's Musings: Why Digital Transformation Must Move Beyond The Hiring Of A Chief Digital Officer April 25, 2016
Event Report: Business Transformation Top Of Mind For Microsoft Envision #ENV16 Attendees April 7, 2016
Event Report: A New Platform For The Digital Economy #Davos16 #WEF January 28, 2016
Event Report: The Transformation of Finance #Davos16 #WEF January 28, 2016
Event Report: The Future Of Jobs From #Davos16 #WEF January 20, 2016
Event Report: The @Wipro @FT Dinner, Man vs Machine, Does It Have To Be Either/Or? #Davos2016 #WEF #WEFTalks January 19, 2016
Event Report: The Weekend Before Davos And The Dawn Of The Fourth Industrial Revolution January 16, 2016
News Analysis: In Search Of Growth Amidst Digital Disruption January 8, 2016
News Analysis: SAP User Base In The UK and Ireland Ready For Digital Transformation But Organizations Remain Cautious Of Vendor Claims To Assist November 24, 2015
Monday's Musings: Reflecting On Five Years Of Disrupting The Industry Analyst Business November 16, 2015
Monday's Musings: Avoiding Cloud Vendor Lock-In October 25, 2015
Monday's Musings: Dealing With The Startup Who Went Public And Is Now Arrogant As Hell October 11, 2015
Event Report: @AirWatch #AWConnect 2015 Shows Shift From EMM To Platform September 23, 2015
Event Invitation: Webinar on The American Eagle Story- Competing On Experiences And Outcomes In A Mobile World September 15, 2015
Event Invitation: Webinar on Building Win-Win Relationships With Oracle September 12, 2015
Event Invitation: Tweet Chat on Managing #ShadowIT September 6, 2015
News Analysis: @Cisco and @Apple Team Up At #GSX August 31, 2015
Event Invitation: Come Join Us For A Silicon Valley CXO Day At Constellation's Connected Enterprise #CCE2015 August 26, 2015
News Analysis: @Oracle Announces Agreement To Acquire Marketing Cloud A/B Testing Firm @Maxymiser August 20, 2015
News Analysis: @Infor Acquires @GTNexus for $675M August 11, 2015
News Analysis: Inside Alphabet – G Is For Google August 10, 2015
News Analysis: Infosys One-Year After Vishal Sikka August 4, 2015
News Analysis: Inside The Rationale Behind @LinkedIn Turning Off Its CSV Connections Download Tool July 25, 2015
Book Summary: Lesson 10 From Disrupting Digital Business – Segment By Digital Proficiency Not Age July 12, 2015
Book Summary: Lesson 9 From Disrupting Digital Business – Deliver Intention Driven, Mass Personalization At Scale July 2, 2015
Book Summary: Lesson 8 From Disrupting Digital Business – Democratize Distribution With P2P Networks June 22, 2015
Book Summary: Lesson 7 From Disrupting Digital Business – Humanize Digital With Digital Artisans June 14, 2015
Disclosures
Although we work closely with many mega software vendors, we want you to trust us. For the full disclosure policy,stay tuned for the full client list on the
Constellation Research website
. * Not responsible for any factual errors or omissions. However, happy to correct any errors upon email receipt. Constellation Research recommends that readers consult a stock professional for their investment guidance. Investors should understand the potential conflicts of interest analysts might face. Constellation does not underwrite or own the securities of the companies the analysts cover. Analysts themselves sometimes own stocks in the companies they cover—either directly or indirectly, such as through employee stock-purchase pools in which they and their colleagues participate. As a general matter, investors should not rely solely on an analyst's recommendation when deciding whether to buy, hold, or sell a stock. Instead, they should also do their own research—such as reading the prospectus for new companies or for public companies, the quarterly and annual reports filed with the SEC—to confirm whether a particular investment is appropriate for them in light of their individual financial circumstances. Copyright © 2001 – 2019 R Wang and Insider Associates, LLC All rights reserved. Contact the
Sales
team to purchase this report on a a la carte basis or join the Constellation Executive Network