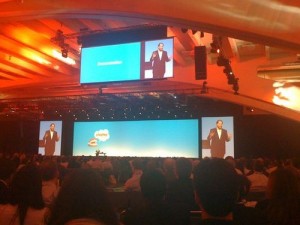 Chatter Represents SFDC's Unified Move Into Social
Announced at the 2009 Dreamforce conference, Chatter represents both a collaboration application and platform.  Software built on the Force.com platform will gain the collaboration capabilities.   Solutions in AppExchange will be able to use profiles, real time streams, and other API's.   With a 100 customers testing out user experience, scalability, and security, Salesforce.com, moves from vaporware to beta.   Some key features include:
Aggregating streams of information. Employees can subscribe to feeds such as internal updates, social networks, and documents.
Automating status updates. Users can receive updates from system and user generated alerts.  Alerts can include documents and related links.
Enabling secure document sharing. Chatter feeds can be searched to find relevant information.  Document sharing is protected by a secure sharing model from the Force.com platform.
The Bottom Line For Customers – Chatter Represents A First Step Towards Social CRM
Customers seek solutions that bridge the gap between Enterprise 2.0 collaboration with enterprise applications.  Investment in solutions like Chatter fit well with Salesforce.com's existing list of innovative customers.   Many require more in-depth social capabilities.  Should Chatter be delivered in 2010, customers will win by being able to minimize the number of SaaS platforms,  reduce the related costs of vendor management, and take a first step into Social CRM…