The rate of change in the IT industry has increased dramatically in recent years, but overall technological change has moved ahead even faster. Such is the pace that it's been imposing a disruptive forward drag on enterprises and it's been a critical factor in particular with social computing.
In my recent post on social business and the challenges currently facing modern CIOs, I explored the macro conditions that are altering the competitive landscape amid major changes in expectations by internal and external stakeholders.
While the role of CIOs has been evolving in recent years to focus more and more on primarily business concerns, technology is ultimately the means through which much of a CIO's goals are accomplished. The Web itself and associated industries (such as open source) have been having the largest overall impact on enterprise IT in the last half decade. In fact, it's the premise of this series of posts that social business heralds a new way of thinking about, organizing, and operating businesses.
In particular, present developments (and almost certainly future advancements too) in social tools and technologies are primarily coming from the online world. CIOs will either be 1) responding to the influx of these tools flowing in from the margins and silos of the company, or 2) getting in front of them and guiding their situation in the organization in a meaningful and constructive way.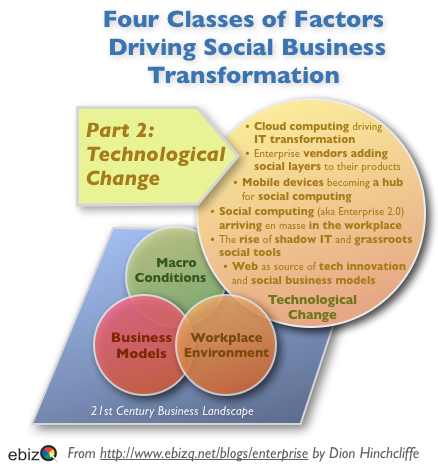 As we'll see below, an corresponding increase in shadow IT and associated grassroots adoption of social technology today is being driven by closely related developments in SaaS and cloud computing. This is often forcing the social computing discussion when it might not happen on its own. While some organizations are just ignoring the issue or actively clamping down, as social computing becomes increasingly relevant to the way businesses work, it's turning into what is starting to be called social business.
While marketing, customer service, and product development are most often on the front lines of the social business discussion (with social media marketing, social CRM, and open innovation/crowdsourcing respectively), I often encounter organizations that are using more horizontal tools as well including enterprise social networks, and wikis in local and departmental situations. Adoption, however, is still ad hoc, experimental, local, or one-off, and not yet strategic in many cases despite the growing list of benefits.
Read Part One of This Series on Social Business and Next-Generation CIOs
Yet the writing is on the wall when it comes to the overall numbers of workers using social tools in business related contexts. All of this paints an opportunity, and perhaps a dilemma, for CIOs that are already challenged with overseeing so many large areas of responsibility that combines operations and new business initiatives with modernization, upgrades, and restructuring.
So even though CIOs typically delegate technical decision making to subordinates that are more familiar with the details, the technology changes list here are imposing a vital new agenda within most organizations today, whether they are in the private sector, government or non-profits/NGOs…