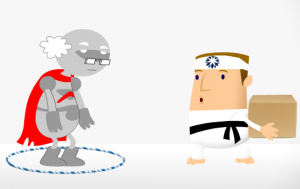 This is a rant. I won't pretend to dig into details of the accuracies, fallacies, and potentially overlooked comparisons in Coupa's latest napalm drop on Ariba. No, I'll save the meat of my analysis for a regular post or two next week that takes a more objective look at some of Coupa's claims in its comparison of its product to Ariba. What I will do, though, in the next few paragraphs is lavish a bit of praise on, well, a truly ballsy marketing campaign. (I'll also examine a few of the risks involved in Coupa's slam job on Ariba.)
First, the basics. For those who have not yet seen it, Coupa, a SaaS eProcurement vendor, this week unleashed a marketing campaign that encouraged direct comparison between its product and Ariba's. It also has its cartoon mascot, Coupa Sam, talking smack to Ariba's superhero, Spend Man. This is the most competitive excitement the procurement and supply chain sector has seen since Reagan Lancaster dressed up as Tom Cruise from Mission Impossible at an i2 event, rappelling down a wall and attacking manikins that represented the ERP giants and other software competitors.
How smart is Coupa's move in practice, despite the humor and shock value it brings? In my view, Ariba represents a bit of a sleeping giant: You don't necessarily want to get in its crosshairs. Still, despite the fact it takes Ariba so typically long to react, the chance of remaining a target for long is slim, especially since Coupa's overall revenues to date represent less than what some of Ariba's largest clients have paid them over their lifetime relationship. In other words, Coupa, as an Ariba competitor at this point in time, does not exactly move the deal needle, even if the cloud upstart is yapping at its Spend Management toes in some deals, and taking away the occasional prospect.
Yet Ariba has proved litigious from a patent/IP standpoint in the past (as has competitor ePlus), and any marketing campaign that begs a response like this has the potential to invite the wrong type of response (the type where only the lawyers win) from a number of parties. This is a risk Coupa customers and prospects may wish to consider, especially considering how litigious ePlus has been in the recent past, suing Ariba, Perfect, SAP, Verian, Sciquest, Lawson, and virtually every other eProcurement vendor known on the regular vendor stage. You can be sure this campaign will put Coupa on the map for ePlus' lawyers, let alone Ariba's. And I doubt the upstart's balance sheet is as bulletproof as that of its larger competitors when it comes to patent trolls…