Read this an it immediately resonated with me.
According to a study by Auto MD, which is owned by the US Auto Parts Network, Inc. (i.e. people who have a vested interest in making parts for used cars) 77% of people are, on average, planning on driving their current cars at least 50,000 miles more than their previous cars.

[From People Putting an Extra 50,000 Miles Or More On Their Cars : Gas 2.0]
There are some obvious reasons for this phenomena, namely the uncertainty of the economy causes consumers to put off large durable goods purchases, of which a car is certainly second only to houses for most people. Credit is also a problem with lenders tightening standards even for consumers with good credit, and Americans are saving more and paying down debt… so drive your car 4 years longer (averaging out miles driven per year).
There is another factor, one that I have written about many times here, sales tax and registration fees are putting an enormous burden on car sales. Here in California you can expect sales tax, registration, and licensing to add over 10% to the cost of a new car. Here's an example of the fees for a new car purchased for $50,000 (just a representative number for easy math).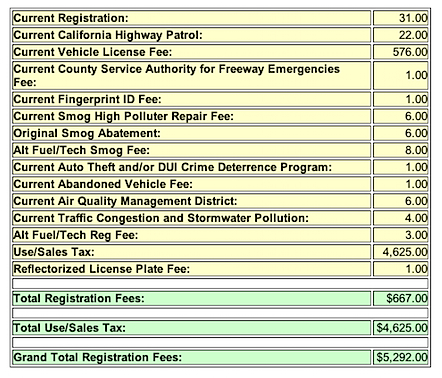 California and other states need to revisit the Laffer Curve and apply it to consumer purchases… taxation (whether direct taxes like sales tax or fees) is exacerbating an already difficult consumer marketplace.