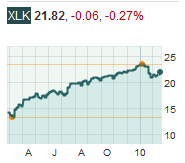 Appreciated this piece from MarketWatch – so far 2010 is off to a challenging start for the 'tech' sector but I do still believe we've got a decent if not very good year ahead.  As indicated, the global economy is recovering (albeit in fits and starts), and overall earnings growth and visibility is good.  The wealth, however, is not being spread around evenly.
So far we've seen great numbers from the likes of well-established tech companies such as $CSCO and $HPQ, and much weaker results from 'cheap tech' like $DELL and $S (both which I've recently been long and wrong about).
In other words, the strong are getting stronger – and the less-strong are hanging in there – barely.
What this says to me is that buyers are rotating toward the market leaders, which benefits the likes of the aforementioned $CSCO, $HPQ as well as others including $IBM, $ORCL, $GOOG, $CRM & $AAPL.  I've been adjusting my personal portfolio – for instance I spoke a bit about $ORCL with Dr. Phil earlier this week and like it long-term, particularly post their Sun Microsystems acquisition.
I'm also looking hard at $MSFT – whose financial performance continues to excel despite the ongoing (and mostly justified) beatings they are taking in the court of public opinion.