Two significant and closely related trends in enterprise computing this year are the growth of Software-as-a-service (SaaS) and social computing. By most accounts, both are gaining ground quite rapidly while still not being used for core business functions or mission critical applications in most large firms, at least not yet.
The reality is that broader social and cloud computing trends continue to evolve faster than most enterprises are able to absorb. It may be years before many organizations are comfortable with and ready to adopt either of these technologies strategically despite apparent benefits.
However, that doesn't mean that it's not important for organizations to closely track both of these leading computing trends (both have solid double digit industry growth) and understand the emerging technologies that are likely to shape their use in key business functions in the near future. In fact, quite the contrary, particularly when it comes to Enterprise 2.0.
The potential overall impact of enterprise social computing (aka Enterprise 2.0) is significant for most organizations, at least in the medium term. The business functions that are likely to be affected and transformed by these new social business models (and its associated delivery model, SaaS) includes general purpose communication and collaboration, product development, customer relationship management, marketing, operations, and business productivity solutions. And certainly, ad hoc use and early adopters have already being doing this for years, but as we'll see, many Enterprise 2.0 technologies are only now becoming a reality. What then, are the areas to watch and build competency in this year?
Keeping social technology in perspective
In terms of innovation, 2010 is shaping up to be another important one in the early development of social technologies in general. To get a sense of this, you can read my recent exploration of what's happening this year with the latest consumer-oriented Social Web technologies and standards. Though the enterprise aspects of these are often far behind, the industry is moving quickly ahead in terms of actual products and new business-ready solutions.
For organizations looking to keep current, both good timing and judicious application of new Enterprise 2.0 technologies will be needed as organizations increasingly look at their future in terms of a social computing driven knowledge economy. To do this though, we have to put them in the context of the big picture.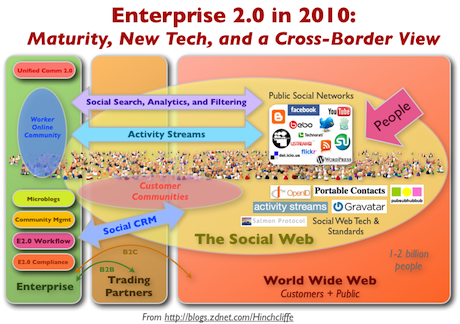 I often make the point that it's the concepts behind social computing and their application to economic activity, aka social business, that are the driver of Enterprise 2.0. A full solution is achieved when these ideas combine with the technology, which is an enabler, though it's important not to forget that technology strongly shapes and defines the art of the possible when it comes to social computing, both in the consumer space and the enterprise.
However, I still encounter tool myopia in many discussions of social computing and Enterprise 2.0. It's sometime easy to focus on the specifics, like social tools and their technologies, instead of more difficult and less tangible concerns like driving usage or measuring ROI. Fortunately, this seems less pronounced than a year ago and the "soft" issues surrounding adoption and long-term success, such as community management and other important practices are now getting their due on equal footing with the often flashier and attention-grabbing social tools and technologies themselves.
Ten strategic technologies for enterprise social computing
Below are ten social computing technologies that I believe will be actively developing or maturing this year and either worth exploring or otherwise watching closely for 2010 and beyond. Note that many of these technologies are not based on standards or for which standards often don't exist, which will be problematic for some organizations. Many of the technologies listed here are primarily embodied in new product categories and for now are represented primarily by commercial products. It likely won't be long, however, before open source and open standards enter and play an instrumental role in many of these spaces.