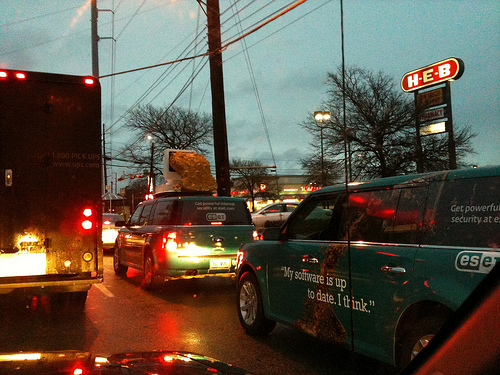 While we don't "do numbers" at RedMonk, I come across many interesting numbers each week, here are some (with some older ones from the past several weeks):
KLM Royal Dutch Airlines has moved 11,200 of its crew members to Gmail as part of a major Google Apps Premier Edition deployment.
Enterprise Desktop Alliance…surveyed 322 IT admins about their Mac-PC environment….The key finding is that 66 percent of respondents said they expect to see more Macs at their companies. This figure is slightly down from last year's survey, which showed that 74 percent of respondents had planned to increase the number of Macs.

…

"Our stats do not show Apple's major uptake in the enterprise market," says Gartner analyst Mikako Kitagawa. "Apple's share in the PC market has been less than 1 percent in the last several years and has not changed."
Meanwhile, another outfit had Macs taking "the top spot in an annual reliability and support ranking."
Today WordPress.com was down for approximately 110 minutes, our worst downtime in four years. The outage affected 10.2 million blogs, including our VIPs, and appears to have deprived those blogs of about 5.5 million pageviews.
Since Oracle's endorsement of Linux, the kernel and operating system have penetrated everything from high-end data centers to handheld consumer electronics. Linux runs stock exchanges from New York to Tokyo. It powers Sony's Playstation, Tivo recorders, and Samsung TVs. It's on Google mobile phones, tens of thousands of Facebook servers and 90 per cent of the virtual images in Amazon's EC2 cloud.

Late last year, ABI Research estimated that nearly one-third of the 35 million netbooks sold in 2009 would ship with Linux. Meanwhile, 11,000 lines of code are added to the kernel each day, an indication of the kernel's increasing utility in daily life and also one the sheer number of participants working on the project.
Papa John's uses OpenNMS to monitor 816 notes, which corresponds to 1,412 interfaces and 5,747 services…