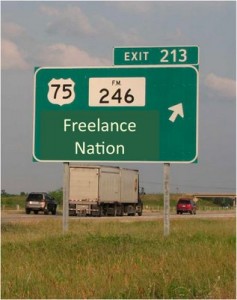 Use your subject matter expertise to make selling a pleasure not a chore
Never call or meet someone without having done a lot of homework on their firm, their economic situation, their markets, their market challenges, etc. Then, and this is the most important point, you must develop a point of view around them.
The purpose and focus of a sales call should always be about the prospect: NOT YOU! As bad as you want to talk all about your credentials and how bad you want this work, you need to focus on the prospect. Make them the center of your universe. It's their firm and their money.
I do a number of tech selling courses every year to teach people Point of View selling. Here's the short version of the course in a couple of paragraphs:
– take the time to research this firm
– identify the top three business problems plaguing this prospect. These should be material issues that must be corrected asap or the company will suffer dire consequences or will be exploited by the prospect's competitors. It doesn't help you if you identify 10 or 20 problems as most executives can't solve more than 2-3 issues simultaneously anyway. Also note that these issues better be on the top of this executive's personal problem list as they're not focused on problem #21 when problem #1 could cost them their job next week.
– quantify the cost of inaction. If this number isn't big and believable, it won't get acted on. Alternatively, identify the magnitude of the opportunity. I once found a way for a company to free up over $450 million in working capital. That earned a big seat in front of the CEO and CFO of these Fortune 500 firm.
– present no more than three solutions. Make sure these address one or more of the problems you've highlighted.
If you do this correctly, you don't even need PowerPoint slides. You'll be able to speak to these points in an elevator, over drinks, in the Admiral's Club, etc. But, if you do develop a deck, keep it really short. The purpose and focus of a sales call should not be around the tedious poring over of a 100+ slide PowerPoint deck.
Today at lunch, a CIO was regaling us with the story of an ERP vendor she invited to have speak to her IT team for a one-hour lunch. Would you believe the vendor brought a 320-slide deck?
Generic slides, too many slides, no focus, no attention on the prospect, no idea what the prospect's problems/issues are, etc. are all formulas for sales disasters. Don't do it.
As a freelancer, you need to be different. You need to be better than others. Just because your old employer did things a certain way does not mean you should…