Summary
Yesterday Citrix Online (the part of Citrix that does GoToMeeting & friends) announced their purchase of Paglo, a SaaS IT Management platform. I've been interested in Paglo over the years because of the SaaS angle: only a handful of IT Management vendors try this approach, and most seem to slink away (or worse). Citrix Online says this purchase will expand their GoTo portfolio, building on their mid-market strength. Theres not much reason to disbelieve hat notion.
Paglo
Today, Paglo is a general IT Management platform done as hosted service, SaaS. Paglo started out as a search driven monitoring offering (drawing comparisons to Splunk), started generalizing, and added in things like log management and started a white-label offering for Managed Service Providers (MSPs).
Paglo's pricing and marketing positioned is targeted at the mid-market, and as many IT Management upstarts seem to be finding, there's a hunger in the MSP and Ronin sysadmin market (MSPs on wheels?) for these kinds of offerings/ Folks like Nimsoft (I hear) and Spiceworks get much attention from this slice of the market, and others like Packet Trap seem to have slung-shot their MSP momentum into exists.
This purchase by Citrix Online will likely help customers in this specialized mid-market, and the more general one. Citrix Online has proven effective at marketing to SMBs (you can't throw a rock without hitting a GoTo commercial) and their growth rate shows this. Here, I see Citrix Online as buying into the monitoring market, expanding their portfolio into something that would be difficult for them to quickly build on their own, mostly when it comes to getting into the market.
While the GoTo line of products are used by enterprises, the use of Paglo sounds to be aimed not at the enterprise market, but at "democratizing" enterprise-grade IT Management down market – which is what the Little 4 and other open source offerings like Nagios and OpenNMS have been doing for years in addition to going against the Big 4 castles. Competitors to GoToManage like Spiceworks have found success in pulling enterprise functionality down market – with the accompanying lower prices and better usability – and I suspect if Citrix Online capitalizes on the SMB channels they have, they'll find success as well.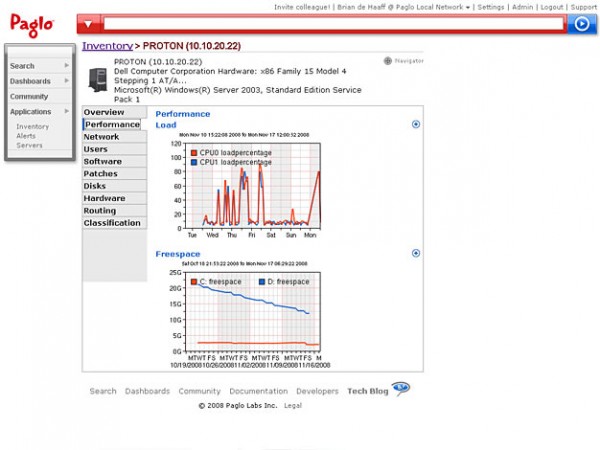 Action Plan: Citrix
Looking at Citrix, they've been in a weird spot over the past few years as they try to build that next $1B line of business in addition to their dumb terminal/thin computing/VDI/pick-your-buzz-phrase. With the purchase of Xen some year back, they're having a go at virtualization and private cloud, though they don't seem to have done something in the cloud area as dramatic as, say, buying 3Tera, as CA did this week – others like RightScale are kicking around the corners of the dance floor, of course.
The Citrix Online division has been doing well and seems to be run somewhat independently, though this might just be more of a "it's not enterprise" effect meaning Citrix doesn't emphasis the GoTo family as much to us analyst types. The massive infusion of enthusiasm around VDI (which seems more vendor than buyer driven, but I haven't made a study of that theory) could help bolster Citrix as well who are – it'd seem – the best positioned to take advantage of that if VMWare, Microsoft, and Oracle ambitions don't beat use scrappy new comer sheen to beat Citrix to the punch…