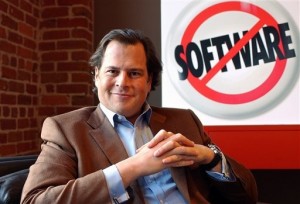 Salesforce's Marc Benioff was his usual provocateur self with his post on Techcrunch "The Facebook Imperative" where he asserted that "Why isn't all enterprise software like Facebook?" is the important question he will wrestle with this decade. Let me humbly submit that we can probably wrap this up a little faster than that.
1. Facebook is designed for entertainment, not productivity.
The more often users come to Facebook and the more time they spend there, the more they view advertisements, the more money Facebook makes.
Thus the objective behind Facebook's design paradigm is get people to spend as much free time as possible on Facebook. To this end they have created some wonderfully addictive features: trolling through your friends' updates, playing games, creating lists of things you like, acquiring virtual currency and thinking of witty things to say for your own status update.
I'm not so sure that "spend as much time on the site as possible" is a useful design paradigm for the enterprise. So to ask "why isn't all Enterprise software like Facebook" is a bit like asking "why isn't all Enterprise software like the final season of Lost."
2. I do not have the same social relationships with my co-workers that I do with my Facebook friends.
Across various teams, projects and organizations that I'm a part of, I probably interact with ~100 different people at my company.
The percentage of these 100 colleagues that would want to hear my general stream of consciousness updates on what I'm doing in a personal context is very small. That small percentage are already my friends on Facebook.
The percentage of these 100 colleagues who would like my general stream of consciousness updates on what I'm doing in a professional context is a bit larger but still a fraction of the 100. That small percentage are already my connections on LinkedIn.
Get where I'm going with this?
3. Facebook is not another better Lotus Notes
I think it would be a real mistake to think of Facebook as another groupware modality, following the path of e-mail, portals, instant messenger and wiki's.
The features in Facebook that most look like productivity / groupware are ones that have been around for a long time (e-mail, file upload, notifications). What is new about Facebook is the voyeurism and the followership and the lengths people are willing to go to in order to acquire both. Will fostering voyeurism or followership in the workplace lead to a happier or more productive outcomes?
Stick with the Amazon analogy
"Why isn't enterprise software a lot more like Amazon" is a much more sensible question to me. From when you land on Amazon's splash page, the less time it takes you to get through checkout, the more money for Amazon.
And so Amazon's user design paradigm is designed around that business model: find what you're looking for, transact your business, get out. That doesn't mean Amazon doesn't have community features like favorite lists or reviews or collaborative filtering, but they're designed in service of useful outcomes for the consumer and the business.
For both employees, managers and shareholders, I think that's a lot more along the lines of what people are trying to accomplish at work and a more worthy model to aspire to.

Related articles by Zemanta