Can social tools and community-based approaches truly help our government function better and operate more efficiently? Will open access to government data create important new opportunities for citizens and increase transparency?
These two questions are currently top-of-mind in many public sector policy discussions this year. The questions also herald new forces at work in transforming the government landscape in many countries around the world in 2010, particularly as we'll see, the United states.
Far from being discussions on the fringe of technology, new open government efforts have begun putting social computing and open data in the very forefront of major government initiatives aimed at improving collaboration and participation.
The backdrop for the discussion of next-generation government at the moment, sometimes referred to as Government 2.0, has been a growing focus on using social networking and the lightweight integration techniques of Web 2.0 to drive government transformation. The first significant and tangible changes began to be discussed early last year with the installation of the nation's first ever federal CTO and CIO, Aneesh Chopra and Vivek Kundra respectively.
Both of these national IT leaders quickly began promulgating a new vision of open government that was started last year with the Memorandum on Transparency and Open Government. This recently culminated in a concrete and ambitious mandate with a surprisingly short time frame in the White House's new Open Government Initiative. This directive represents the proverbial line in the 1.0/2.0 sand and makes transparency and data sharing a must-implement requirement across the federal government. With this, some level of real government transformation is not just possible, but likely.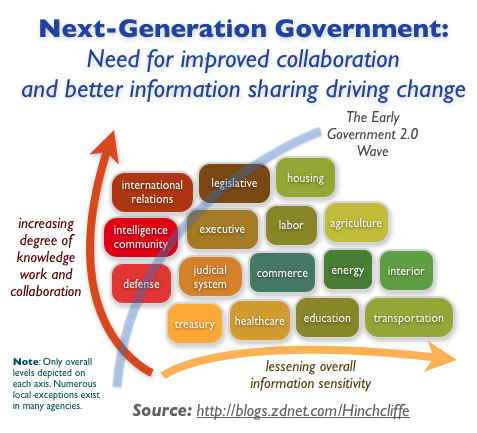 Among other forward-looking goals, the new directive now requires federal agencies to make a minimum of three valuable data sets available online within 45 days. This is the process of what my friend and colleague W. David Stephenson calls the "democratization of data" and it has many potentially positive outcomes. For the first time, it's clear that — at least on the open data front — there is now an actionable mandate across the government that would make the open data industry on the Web very proud indeed. This is in terms of conception, however, and not realization at the moment; most of the government's open data initiatives — such as data.gov — are still too static and file-centric. They still have a lot to learn from the more modern, dynamic, and successful open APIs of today's Web.
Related: Building a vision for Government 2.0
At the same time on the social computing front, with Gartner's recent prediction that by 2014 social networking services will replace e-mail as the primary vehicle for personal communications for a significant percentage of business users, many agencies are seeing the writing on the wall: Social media and Enterprise 2.0 are moving steadily into the government. Agencies are now attempting to reconcile themselves with social collaboration as a powerful and potentially beneficial part of their internal and external communication strategies.
Early moves towards Government 2.0 have begun
The most recent notable example of this was the announcement from the Department of Defense on Friday concerning a major policy change towards "social networking services (SNS) and other interactive Web 2.0 applications", enabling them in situations that don't violate DoD governance requirements and when resources are otherwise available:
"This directive recognizes the importance of balancing appropriate security measures while maximizing the capabilities afforded by 21st Century Internet tools," said Deputy Secretary of Defense William J. Lynn III.

Use of Internet-based capabilities, including SNS, have become integral tools for operating and collaborating across the DoD and with the general public. Establishing a DoD-wide policy ensures consistency and allows for full integration of these tools and capabilities.
Even in very secure and closed government environment such as the intelligence community and the DoD, we are seeing proactive moves towards social tools. Recently a new microblogging service called "Chirp" debuted in the DoD as a part of a series of Enterprise 2.0-style initiatives:
Chirp is a microblogging pilot that is part of the Intelink suite of tools. The site, modeled after microblogging sites like Twitter, is intended to provide situational awareness and information on breaking news. Chirp promotes collaboration through informal messaging. Like other microblogging tools, Chirp allows users to post messages of up to 140 characters. At (@) tags are used to bring chirps to the attention of a specific user. These are usually used when replying to a previous chirp posted by that user. Hash (#) tags are used to tag a chirp with metadata and allow users to search on particular key terms. More information about Chirp can be found at https://www.intelink.gov/chirp/.
As encouraging as these pilots are, however, the government is a very large entity and change is famously difficult to enact in either bureaucratic or technologically moribund environments, two states which are all too common in many levels of government. In the last few months, I've been spending quite a bit of time working with public sector groups and Enterprise 2.0 and an overall picture is starting to emerge about adoption. When it comes to Government 2.0, well beyond the core worries around "risk, control, and trust" that I discussed last fall, many of the adoption issues boil down to the specific situation in the local environment. In rough general order, the following items seem to be the ones that are directly affecting the degree to which a government agency can readily adopt 2.0 models.
Issues affecting Government 2.0 transformation
Please note that the issues below apply broadly to open data and social computing, both of which have sharing knowledge as a fundamental value, with the latter emphasizing the way in which individuals are centrally involved in the process of communication and knowledge exchange itself…