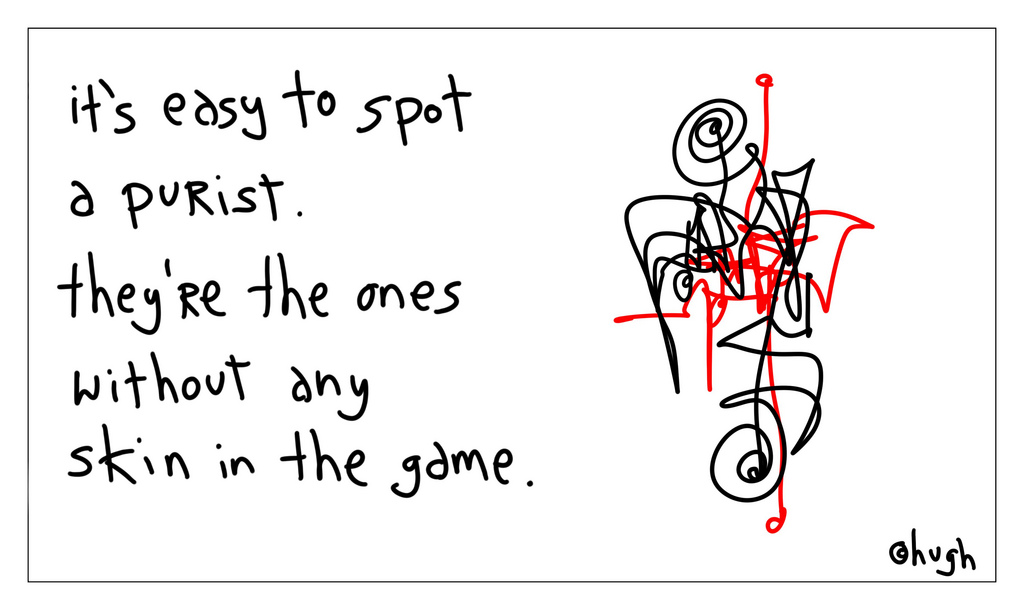 If anyone counts as a ring leader for emerging global microbrands it is Hugh MacLeod. Hugh is a creative, a prankster, high end management consultant and wine merchant all rolled into one. What is a global microbrand?
The Glo­bal Mic­ro­brand is nothing new; they've exis­ted for a while, long before the inter­net was inven­ted. Ima­gine a well-known author or pain­ter, selling his work all over the world. Or a small whisky dis­ti­llery in Scot­land. Or a small cheese maker in rural France, whose pro­duce is expor­ted to Paris, Lon­don, Tokyo etc. Ditto with a vio­lin maker in Italy. A clas­si­cal gui­tar maker in Spain. Or a small English firm making $50,000 shot­guns.

With the inter­net, of course, a glo­bal mic­ro­brand is easier to create than ever before. A com­mer­cial sign maker in New England. Or a sheet metal entre­pre­neur in the U.K.
Why is Hugh so inspiring? Because his core message is simple. If we work damned hard at something we're good at we can all grab a place at the big kids' table. The internet will make us findable if we use it right.  That doesn't mean acting big, or trying to look big. It doesn't mean calling ourselves "the world's leading" this or that. Leave the overblown adjectives to bad advertising and PR practitioners. Keep it simple like
Cartoons drawn on the back of business cards
The business cards thing is important because it shows the way forward to random acts of traction. Most business cards are instantly forgettable – file and forget, and perhaps don't even file. Hugh's cards on the other hand hang around. Just like his blogs. Or some words of advice from five years ago. Hugh has an amazing network of people that want to help him out, because he gives so much away. Some take advantage of course, but that's human nature.You can take Hugh's images and stick them in your cubicle– or put them on a t-shirt, or a wall in a bar, a Windows 7 theme or whatever the shit you want to. No problem. All that Hugh asks is that you don't resell these images. There is absolutely no contradiction that Hugh also sells limited edition prints.
The reason I have had this post in mind for a while is that Hugh, unlike 99% of the people I talk to, actually understands RedMonk's model at a gut level. He never asks "but how do you make money when you give all your content away". He never tells me I should put up a paywall for our content. In fact Hugh would laugh at the idea. I can't tell you how many times my business partner Stephen and I have had to explain to people how the model works. With a lot folks they still don't get it. And yet – we have been running RedMonk for 8 years now. Obviously not sustainable then.In his Random Acts of Traction post Hugh nails it:
As they can only rea­lis­ti­cally exe­cute on 10% of their ideas, they don't seem to mind giving away the remai­ning 90% for free, via their blogs. If one of their free ideas gets "Ran­dom Acts of Trac­tion", it's great PR for their busi­nes­ses. It leads to con­ver­sa­tions even­tually. Con­ver­sa­tions that even­tually lead to paid gigs.
That's right- conversations lead to paid gigs.  Sales 101 perhaps, but a lot of folks seem to forget the basics. Pay for play – euch. Some of these conversations are long-running. My favourite example is our seminal creative commons licensed Compliance Oriented Architecture [pdf warning!] report. We interviewed a ton of people, then effectively gave the content away. We allowed for commercial use- EMC used the report as the basis for a white paper and didn't need to pay us.  Nearly two years later I got a call from Thomas Otter, a guy that worked for SAP (he is at Gartner now). He wanted to use COA as the basis for a customer discussion. I met him for a glass of wine at Bedales, and about two weeks later I was in Walldorf at SAP's HQ. Today SAP is a valued customer but I would never have got in the door if we hadn't "given away" our research product. Its also worth nothing that SAP doesn't engage with us as analysts, but as influencers through a great program run by the inestimable Michael Prosceno.
Frankly you have to have some skin in the game in order to play by the new rules. Because RedMonk makes so much solid content freely available our business model doesn't scale in the same way more publishing oriented research firms work. We are often told that fact makes us beholden to people that pay the consulting bills. But I would rather advise companies, and declare commercial interests, than claim that we don't rely on vendor revenues. Our model is the new patronage economy. We like to thank our sponsors. If we didn't take Big Company money we couldn't spend our time hanging out and learning from the people that really matter in our business- software developers.
We are not purists, but we're an ethical company, small as we are, which helps us punch far above our weight. That's good enough for me.
disclosure: rumour is RedMonk may feature in Hugh's next book Evil Plans. Skin in the game, see.