There's been a lot of discussion in Enterprise 2.0 circles recently on the topic of something known as online community management. While precise definitions of this activity can be hard to find, most generally accept that it involves the functional oversight of social activity on a network to achieve various objectives. These objectives include eliciting participation and knowledge sharing, managing the organization's community objectives, and providing support as well as the day-to-day maintenance and operation of the community itself.
In other words, businesses have traditionally conducted their work in physical settings — or with point-to-point communication tools between locations — and have had employees dedicated to managing their overall operation. But as the work environment has moved towards an online one where the dominant communication model is social in nature, then a different set of skills, techniques, and processes are required.
As a result, it's starting to become apparent that community management is a strategic function for organizations that are adopting or otherwise being impacted by social computing, which is most of them at the moment. In particular, this includes Enterprise 2.0 and social media as applied to operating a business, which is then collectively referred to as 'social business.'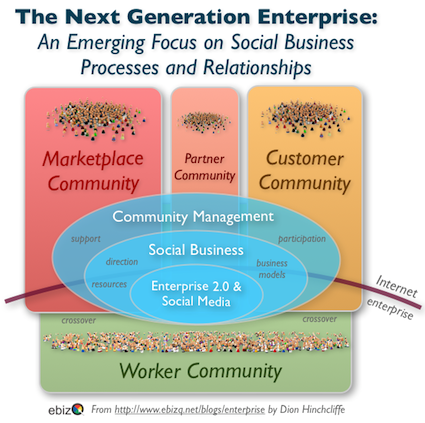 The premise is that as we begin to organize our business processes and the way we collaborate in a fundamentally social manner, we need to manage this activity in a new way that reflects its unique nature. For example, classical hierarchical management structures often don't work effectively when directing the activities of a loosely-coupled social network of people. Then there are the online communities themselves, a new and distinct feature on the business landscape. Businesses generally haven't had a self-aware and continuously connected group of stakeholders in quite this way before. A way of proactively addressing the requirements of and governing online communities is now being seen as needed.
Though social computing often refers to the tools and infrastructure of social software, and it's certainly an essential enabler, the process of community management is only partially assisted by tools at the moment, though they certainly do exist as I explored recently in an overview of new and emerging Enterprise 2.0 technologies.
Related: A CIO Perspective of Social Business
Instead, the process of community management is involving new roles and responsibilities that have certain skills and techniques associated with them. In this way, the community manager has become the central role and it is one that is rapidly moving from basic administration and moderation to a strategic one that effectively influences, guides, and supports workers, partners, and customers en masse, often by the tens or hundreds of thousands.
The Latest Best Practices and Techniques
A landmark new report from the Community Roundtable was released last week that shines a lot of light in this key new role. It's a role that I'd point out that is emerging within a great many organizations in some form already, though often without the full understanding of the nature and scope that is required for good ROI. Despite having been around for years now, the rapidly evolving role of community manager is very much in flux today. Due to the focus on social business in recent years, it is now undergoing a simultaneous specialization and redefinition of the skills required as well as a re-evaluation as a likely nexus for strategic social business activities in the 21st century.
Whether community management is an IT function like the help desk or a management function of HR or something else entirely new are active discussions that are taking place in social software circles at the moment. In my opinion the IT/business divide may never have become as acutely obvious before, and community oversight, which is fundamentally enabled by technology, will likely reside outside of IT as it relocated to a more strategic place in most organizations.
But getting back to the report, the Community Roundtable (also known as The CR) is run by Rachel Happe and Jim Storer and bills itself as an organization where "social media and community practitioners gather to meet, discuss challenges, celebrate successes, and hear from experts. Along with providing a welcoming environment in which to gather and learn, The Community Roundtable is dedicated to furthering the discipline of community management."
Their free new report is entitled "The State of Community Management – 2010" and it represents a major move forward in our understanding of exactly what we know about the state of the art in online community management. The report is endorsed by many well-known figures in the social media and Enterprise 2.0 spaces including Jeremiah Owyang, Oliver Marks, and others. You can also read Oliver Marks's overview of the report on ZDNet, where he says:
In my opinion there's way to much emphasis on tools and technology as a solution to problems – we're in an era of consolidation in an overcrowded tech sector – and this report helps expand and understand the underestimated areas.

The Community Roundtable is structured around a Community Maturity Model management framework that incorporates eight competencies required to successfully 'socialize' an organization, which are Strategy, Leadership, Culture, Community Management, Content & Programming, Policies & Governance, Metrics & Measurement and finally Tools.
The CR's Community Maturity Model is worth close study by anyone implementing social media or Enterprise 2.0 in their organization and I've enclosed a copy of it below: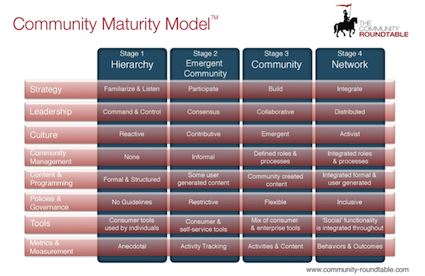 Some of the key lessons about community management in 2010 from the report include:
Avoid One Way Silos – It is critical to address listening, information filtering, and response mechanisms within a community strategies or the community will act more like an outpost than something that drives value back into the business.
Good Social Capital Matters – In online community environments, a leader's authority and influence will be dependent on their ability to be authentic, transparent, persuasive and trustworthy.
Communities Are Different, But Complementary -The goal is not to replicate the culture of the organization within the community but to understand where the boundaries of tone and acceptable topics are – and how much flexibility will be accepted in that regard.
The Best Collaborators Reach Out – Experienced community managers spend a great deal of their time in helping individuals in their organizations better understand the culture, mechanisms, and acceptable scope of interactions in the community.
Communities Can Break Down Silos – Community initiatives are a very effective means of breaking down the culture barriers that are inevitable when companies are acquired.
The last point is a particularly interesting one in terms of the ability of social tools to create truly unified and coherent organizations, even when they consist of silos, physically remote divisions and subsidiaries, or merged and/or acquired companies. Community management can be used to quickly, inexpensively, and deeply engage with any large group of individuals to achieve complex business goals that involve political issues and so-called "tribal" considerations.
Related: The Facebook Imperative for Enterprise Software
As we look at the future of the enterprise, it's becoming clear that leaders will use social business as one of the most powerful tools at hand to lead their organizations, especially as the business models become clearer. In my next post, I'll be continuing my series here on ebizQ on CIOs and social business and explore those very business models in detail for what I believe is just about the first time anywhere. Please stay tuned.
Will community management truly become strategic for businesses or is it just a fancy way to drive adoption of social software?