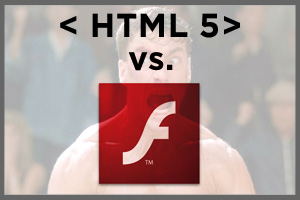 Leigh Drogen of Surfview Capital asked a question earlier today about $ADBE, specifically regarding their 'war' with $AAPL and $GOOG over Adobe's Flash platform, which has become somewhat of a de facto standard for web video, used by sites such as Hulu and YouTube.
As most tech followers are aware, Apple's forthcoming iPad (as well as the iPhone and iPod line) will not support Flash – meaning that an obviously important new media consumption device doesn't support the so-called 'standard'.  Instead, Apple as well as Google have thrown their weight behind a new emerging 'standard' – HTML5.
I pointed Leigh at this post by Jeremy Allaire, founder and CEO of BrightCove, which gets into detail on the emerging battle between Flash and HTML5.  As the post states, 'there's a lot of nuance here' – and it's by no means a foregone conclusion that Flash will be going away anytime soon.  Also interestingly (and probably not coincidentally), $TIVO announced wide-ranging support for Flash this week.   In addition, Flash currently represents only about 5% of Adobe's revenue and is dwarfed by the revenues derived from its desktop applications business.
Nonetheless, while Adobe has remained a strong and well-managed tech company for many years, and Flash remains widely supported, it's hard to believe that being lined up against $GOOG and $AAPL is an attractive place to be.  It certainly suggests caution – and a deep dive into the Flash vs. HTML5 debate – is advised for those considering future prospects for $ADBE.