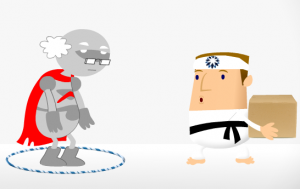 In this third post in the series analyzing Coupa's competitive claims against Ariba (click here for Part 1 and Part 2), I'll turn my attention to the remaining claims Coupa makes against its Sunnyvale P2P neighbor (in case you're curious, Coupa's office is just out of mortar range of Ariba's West Coast HQ, but it's still close by my calculations, especially depending on how the purchasing winds blow on any given day …) But I digress — let's get back to Coupa's comparison list and do a fact check on its remaining claims as quickly as possible.
One of Coupa's claims is that it includes executive dashboards that "provide easy access to actionable spend analysis, actual savings data, and predictive spend forecasts" compared with Ariba, which does "not include" dashboards and requires "additional modules … to perform analysis against procurement transaction flow." My verdict here is that Coupa is largely accurate. Although Ariba does have reporting capability within P2P, I would not put its dashboards in the same class as Coupa's from an overall visual impact perspective. Still, Coupa somewhat misses the boat in this comparison.
Reporting capabilities in a spend/supply management suite must transcend P2P. In fact, the more valuable reporting comes from examining a combination of direct/indirect/services spend — which Coupa does not capture in its entirety. So while Coupa may provide better indirect eye candy, it'll leave organizations in the dark when it comes to the bulk (usually 75% or more) of their purchasing activities conducted outside the scope of an indirect eProcurement system. Now, Ariba does not have the best spend visibility reporting, dashboard interface, or analytics capability in the market (different solution providers take the prize in each of these areas). But it does have a decent overall visibility and reporting solution in this area in comparison to Coupa, which is only able to report on spending through its own system.
Coupa is again wrong — and right — when it comes to its claim that Ariba does not have "predictive analytics and alerts" to supporting forecasting spending into future periods. Here, Coupa says that its own solution features "easy-to-manage real-time alerts [that] inform managers and executives of spending thresholds and budget compliance even when they are not logged into the system." Through Ariba's workflow capabilities (which are quite strong), it's relatively easy to configure automated items including alerts, although I'm not sure I'd classify these as predictive, as Coupa is claiming (but I'm not sure if Coupa's are actually predictive in the sense they're algorithm or constraint driven). Still, in their favor, Coupa is set up for a more non-web and mobile environment to provide insight into activities through alerts. However, it would not be a big deal to create this with Ariba through an integration hub or model (e.g., Tibco) and customize it to the Nth degree if one were so inclined.
When it comes to "built-in budgeting support" Coupa says that "at login, managers see spend against budgets they own as it occurs, complete with drill down functionality to the purchase order and original requisition. Plus [we also offer] automatic adjustment functionality based on downstream events." Coupa questions whether Ariba has the capability to support "intra-period analytics within the application that allow managers [to] monitor spend vs budget as it happens." This is a bit of a loaded comparison because it's not apples to apples. Coupa may have a more elegant and simple approach to intra-period indirect reporting, but Ariba, per my earlier comment, provides a more complete — although not perfect — picture into total spending. Still, both approaches come up complete short of what's really needed in the market: a CDI/supplier hub capability that provides a full snapshot of spending and supplier activity across internal and external data sources at the point of query — in real-time. So I'll grant Coupa a small victory in its claim here, but it's a partial one, at best…