I'm at the Google Campfire One event where they've just announced the Google Apps Marketplace.  The site is live now, feel free to browse.  The speculation is now over, this is Google's answer on whether they will enter the Business Applications market – they just did, with an entire ecosystem of Partners.
The new Marketplace fills an obvious need: Google Apps has 25 million users at over 2 million businesses who clearly need more than just the communication / collaboration / Office type applications Google can offer today.  Here's a chart of some of the initial Marketplace participants: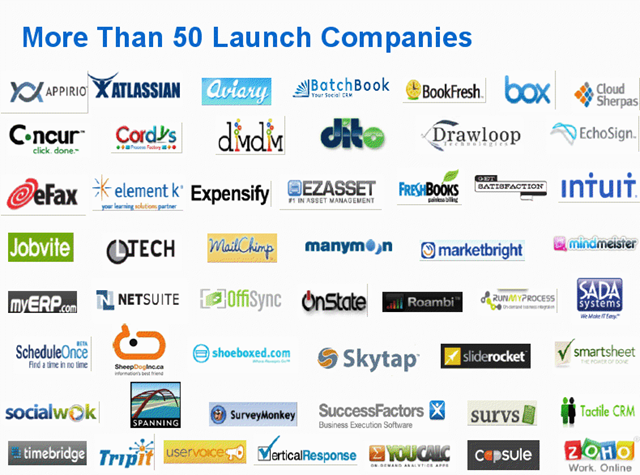 As you can see, the list represents a wide range of partners – some are very obvious fit, others bring questions re. future business model. Just picking a few randomly, I can easily see how electronic signature management vendor Echosign, the obviously named eFax or meeting scheduler Timebridge expands Google Apps functionality, and they are all easy to use applications.  Spanning Backup is a brand new product just launched days ago, but they've established credibility with the previous product, Spanning Sync.
At the other end of the scale we have fairly complex offerings represented by NetSuite and Successfactors.  For SMB SaaS ERP and HRM (yup, lots of acronyms)  offerings integrating Web based office apps or email is a natural fit, but these companies have a very different sales and implementation model: far from the simple test-buy-click-to-install model they have a longer, more traditional sales cycle, a few weeks of implementation work, training..etc.  It will be interesting to see how their presence at the Marketplace plays out, and which side generates more deals for the otherl.
Then there's Zoho (dislosure: this blog is sponsored by Zoho).   On one hand, clearly competing with Google, on the other hand, partnering where reasonable.  My personal opinion has been for a while that Google should have acquired Zoho long ago, offering a killer combo of Gmail+ GCal and the Zoho Business Apps to the SMB space.  Obviously neither Google nor Zoho thought it was their best interest (and not mine, either, why would I want to lose our Sponsor…), but they finally met at the Marketplace:-)  Kudos to Google for playing fair with co-opetitors in the interest of their Customers, unlike… well, let's not go there 🙂   Google Apps users will now have easy access to Zoho CRM as well as to  Projects. Zoho Meeting will soon be integrated, too.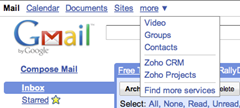 Talk about integration, Google published extensive API's for integration of 3rd party programs to Apps, the Marketplace allows easy discovery of such apps and there's also a commercial model, eventually offering billing on the software vendors' behalf, for a 20% cut.   For now the actual purchase transaction takes place outside Google, but once it's completed, Administrators of a Google Apps domain can simply enable the new apps which will be accessible via Google's Universal Navigation.
Other then for the obvious reasons – users / customers having more choice, I am happy about this launch because I think if any company, Google has the clout to actually expand the market, and in a way influence user behavior, moving us all, consumers and business alike from the traditional sales-heavy model to a pull-model, where we try-click-to buy.  I wrote about this 'shift' in detail in the previous post .
Stay tuned for more analysis from Ben who will look at the details as well as competing Apps Markets, and from Krish who will look at some individual offerings over @ CloudAve.