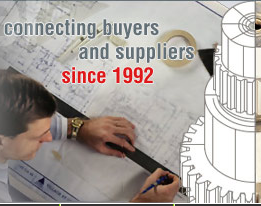 Yesterday, we reported that First Index, a sourcing marketplace for industrial parts and former consulting firm, had closed its doors earlier this week. My tip on the situation came from AJ Sweatt, a colleague and friend who serves as community and blog master for MFG.com Mojo. AJ's employer is a competitor to First Index so there was some obvious gloating in his tone, but I'm appreciative for the tip and also his connection to colleague David Landsman, another MFG.com employee, who had previously worked for First Index and shared a number of details and thoughts with me about their history.
According to David, First Index's final decline was very sudden. What's more interesting than how it ended is how it began–and what made First Index different. First Index hosted an online site where it facilitated the exchange of supplier information to buyers, but the primary core of the business remained offline, where groups of employees would cold call buying organizations to drum up RFQs which they could then provide to their active suppliers, in effect "making the market," just as a trader does on the floor of an exchange. Using this model as a foundation, First Index's core revenue generation came from selling subscription services to suppliers (for anywhere from $3,500 to over $10K per year), and in turn gave them access to buyer RFQs. The primary categories they focused on were a near carbon copy of the early target areas FreeMarkets (not Ariba) tackled from a strategic sourcing perspective as well: machinings, stamping, fabrications, electronics, plastic injection molded parts, etc.
Two of the early leaders of the business, including Russ White, came out of the publishing business. This makes sense, because in many ways, just as MFG.com is doing, marketplace business models take supplier advertising revenue away from media and directory sources and more closely tie it to leads generated. In essence, it is really just a new form of publishing, whether such a model was carried out manually, like First Index, or in an automated manner like MFG.com. Owing in part to the slow growth of this core publishing/marketplace business in the nineties, First Index later branched out into offering sourcing and direct material supply chain consulting services.
First Index's growth in consulting was relatively rapid…